Trisha Yearwood At Grand Ole Opry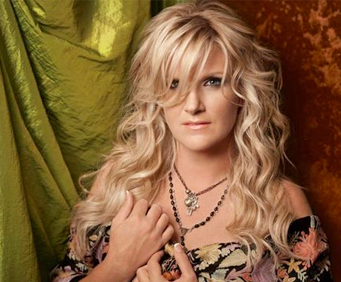 Small-town Georgia girl, Trisha Yearwood made an impressively quick rise to stardom through her strong, confident songs about vulnerable young women. Her music career started in 1991 with her debut album, appropriately named Trisha Yearwood, which topped the Billboard charts with a No. 1 debut single, "She's in Love With the Boy," and three other Top 10 singles. Within the next year, Yearwood produced six consecutive Top 10 hits, won the Top New Female Vocalist Award from the Academy of Country Music, toured with Garth Brooks, won the American Music Award for Top New Country Act, and released a second album, Hearts in Armor, which quickly went platinum. Her first debut on the Grand Ole Opry stage was in 1992 with Porter Wagoner.

Over the next seven years, she released five more original albums including, The Song Remembers When, The Sweetest Gift, Thinkin' About You, Everbody Knows, and Where Your Road Leads. In 1999, she earned her place on the Grand Ole Opry stage. In 2000, she released her seventh studio album, Real Live Women, which sold 500,000 copies in the United States, and in 2001, she released another album, Inside Out, filled with emotional songs such as "Love Alone" and "Melancholy Blue." Finally, after releasing 10 albums in 10 years, she decided it was time for a break.

After a hiatus from music for four years, she returned in 2005 to release Jasper County. The album featured more upbeat songs including, "Sweet Love," and "Who Invented the Wheel." The return to the stage coincided with a marriage proposal from Garth Brooks in front of 7,000 fans at a Bakersfield, California, concert. She said yes without hesitation and the country couple was married later that year. In 2007, Yearwood signed with a new label, Big Machine Records, and released two new albums, Heaven, Heartache and the Power of Love and Love Songs.
Newsletter Signup
Signup to be notified when new dates are added:
Trisha Yearwood has
no current dates
scheduled at Grand Ole Opry.
Click here
for complete schedule. Sign up for newsletter to be notified when dates are added.