Trent Willmon At Grand Ole Opry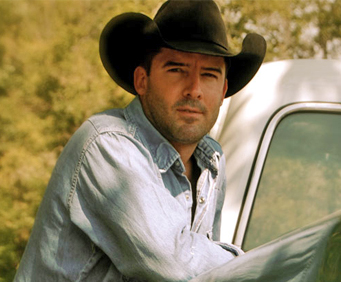 Trent Willmon is a Texan singer/songwriter. Raised on a ranch near Afton, Texas, Willmon learned to play guitar as a teen. Later he dropped out of college to play bass in a bluegrass band and ended up in Nasville, working as a farm hand and caring for horses while trying to get his music heard. Willmon's work paid off, and in 1999 he signed a publishing contract. Songs penned by Willmon have been recorded by Brad Paisley, Little Big Town, Montgomery Gentry, Eric Church, Steel Magnolia, and Willmon's frequent collaborator Roger Creager. Willmon landed a record deal in 2004 and released his self-titled debut the same year, with four charting singles: "Beer Man," "The Good Life," " Home Sweet Holiday Inn," and "Dixe Rose Deluxe's Honky Tonk, Feed Store, Gun Shop, Used Car, Beer, Bait, BBQ, Barber Shop, Laundromat." Three years later, Willmon released his second album, A Little More Livin' and hosted CMT's America's Top Cowboy. Willmon's music draws from his life as a true Texan cowboy, with gritty blues influences. His most recent album, Broken In, was released in 2010.
Newsletter Signup
Signup to be notified when new dates are added:
Trent Willmon has
no current dates
scheduled at Grand Ole Opry.
Click here
for complete schedule. Sign up for newsletter to be notified when dates are added.