Tim McGraw At Grand Ole Opry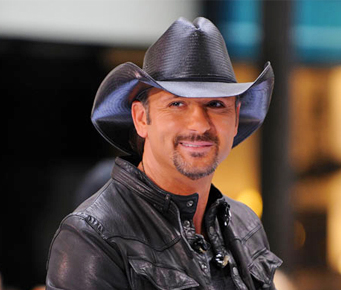 With a total album sales of 40 million units, country artist Tim McGraw has been named the eighth best-selling artist in the Soundscan era. Born in Delhi, Louisiana on May 1, 1967 to former baseball player Tug McGraw, Tim first learned to play guitar while in college, although his roommates would frequently hide his guitar because he didn't play well. In 1989, he moved to Nashville to pursue a musical career after his hero, Keith Whitley, passed away. By 1992, he had his first minor hit with "Welcome to the Club."
Tim's success came first with his second album, Not a Moment Too Soon. The first single "Indian Outlaw" faced major controversy, with critics claiming it presented Native Americans in a patronizing way and with radio stations refusing to play it. However, the controversy spurred sales and the song became McGraw's first Top 10 country single; the song also reached Number Fifteen on the pop chart. His follow-up, "Don't Take the Girl," became his first Number One hit and determined his image as a rugged, good-looking guy with a sensitive side.
Over the years, McGraw would peak at Number One on the U.S. charts twenty-two more times. "Don't Take the Girl" would be followed by songs like "Not a Moment Too Soon," "I Like It, I Love It," "It's Your Love," "Everywhere," "Just to See You Smile," "Where the Green Grass Grows," "Something Like That" and "My Best Friend," among others in the 1990s.
The 2000s would further McGraw's success with Number One hits including "My Next Thirty Years," "Grown Men Don't Cry," "Unbroken," "The Cowboy in Me," "Real Good Man," "Live Like You Were Dying," "Last Dollar (Fly Away)," "Southern Voice" and "Felt Good on My Lips."
McGraw has also won countless awards from the American Music Awards, the Academy of Country Music, CMA, the Billboard Awards, the People's Choice Awards, Country Music Television and the Grammys. He has won three Grammys for Vocal Collaboration on the song "Let's Make Love" with wife Faith Hill, for Best Male Country Vocal Performance for "Live Like You Were Dying," and for Country Vocal Collaboration again with Faith Hill for the song "Like We Never Loved at All."
Over the years, McGraw has also appeared in a variety of films and television shows. He has hosted Saturday Night Live and has appeared on the show Who Do You Think You Are? He has also been nominated for an MTV Movie Award for Best Male Breakthrough Performance for his role in Friday Night Lights, and for a Critics Chocie Award for Best Song for his song "My Little Girl" in the movie Flicka, in which he also co-starred. He has also appeared in Four Christmases, The Blind Side and Country Strong.

Newsletter Signup
Signup to be notified when new dates are added:
Tim McGraw has
no current dates
scheduled at Grand Ole Opry.
Click here
for complete schedule. Sign up for newsletter to be notified when dates are added.