Thompson Square At Grand Ole Opry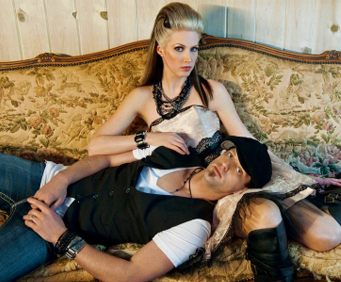 Husband and wife, Keifer and Shawna Thompson, make up the sweet and sassy country duo Thompson Square. The country couple moved to Nashville within the same week to pursue a music career. A few days later, while at a singing competition, they met. They both say that it was love at first sight. They continued to pursue music careers as solo acts, but one day they realized that they could conquer the country music capital together.
So, Thompson Square was born. In 2010, manager Shawn Pennington heard them playing at a local club. Within a few days, they were playing at Stoney Creek Records and signing a contract, making their dreams come true.
A couple of months later, Thompson Square released their debut single, "Let's Fight." The song was well-received but their next single, "Are You Gonna Kiss Me Or Not," released a couple of months later took the cake as their first No. 1 single. The single also went platinum and earned them three American Conutry Music Awards for Single by a Duo/Group, Single by a Breakthrough Artist, and Music Video by a New Artist.
In 2011, they released their self-titled debut album which was No. 3 on the Top Country Albums Chart. Hit songs on the album include "I Got You" and "Glass." The country couple is currently working on their second studio album to be released in early 2013.
Newsletter Signup
Signup to be notified when new dates are added:
Upcoming Dates at Grand Ole Opry: