Thomas Rhett At Grand Ole Opry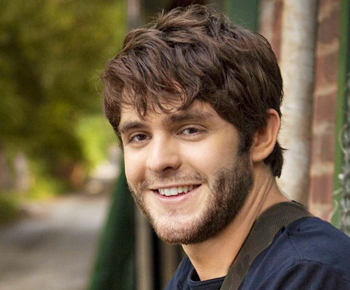 Thomas Rhett Akins Jr. is the son of Rhett Akins, accomplished American country singer and songwriter. Rhett Akins popularity soared during Thomas' childhood so he was able to ride along on a few tours and meet a few greats at a young age. He remembers going to Reba McEntire's Halloween parties, climbing on stage to rap like Will Smith when he was eight, and he even received homework help from Blake Shelton. For years, he swore that he didn't want to go into music. He did have a punk rock band in high school and scored several gigs playing at fraternity parties in college. But he still wasn't interested in a music career until his dad talked him into opening at a music-industry showcase in 2010. The gig didn't pay but Rhett Akins had written many of the songs at the showcase and he wanted his son performing so Thomas agreed to play. The show earned Thomas an annoying parking ticket and a publishing deal with EMI Music. So Thomas reconsidered his decision to stay away from music to become a song writer just like his dad.
In November 2010, Jason Aldean picked up Thomas Rhett's song "I Ain't Ready To Quit" for his album My Kinda Party. That next year, EMI Music's Ben Vaughn began taking Thomas along with him on Music Row to play acoustic auditions. He garnered lots of interests but Big Machine Label Group President and CEO Scott Borchetta immediately new he wanted Thomas. The next day Thomas Rhett signed with one of the label's divisions, Valory Music Group, and began plans for his first album. Something to Do with My Hands released in early 2012. The album hit No. 1 on iTunes Country later that year. The album features favorite songs, "Front Porch Junkie," "All-American Middle Class American White Boy," and "Beer With Jesus." Thomas Rhett made his debut on the Grand Ole Opry stage May 19, 2012.
Newsletter Signup
Signup to be notified when new dates are added:
Thomas Rhett has
no current dates
scheduled at Grand Ole Opry.
Click here
for complete schedule. Sign up for newsletter to be notified when dates are added.