The Whites At Grand Ole Opry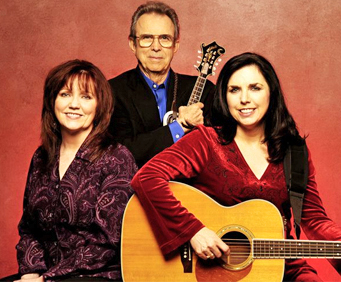 Music runs in the family in the country, bluegrass band, The Whites. Composed of father, Buck, and his two daughters, Sharon and Cheryl, The Whites tend to bring the audience into their amazing family with each and every performance.
Their story begins in Texas with Buck. A lover of honky-tonk music, he mastered the bluegrass mandolin and piano at a young age. In the 1960s, he decided it was time to raise a family in a wholesome environment. So he and his wife moved to Arkansas and settled down. However, a few months later, he had met another musical couple and formed a band called Down Home Folks. It wasn't long before the two couple's children had also started their own band called the Down Home Kids. The two groups often combined to play at bluegrass festival. Buck's wife said that both girls were singing harmonies before they could even talk. So they were destined for the music world.
In 1971, the family decided that music was their destiny so they moved to Nashville to pursue it more seriously. The Down Home Folks immediately began recording and definitely made their mark on the country/bluegrass world. By 1980, the family had dubbed themselves The Whites and gained much more attention after singing on an Emmylou Harris album and touring with her. Subsequently, the group landed a series of Top 20 hits including, "You Put the Blue in Me," "Hangin' Around," "Give Me Back That Old Familiar Feeling." Daughter, Sharon White, married well-known musician Ricky Skaggs who was producing most of their songs and albums and introducing them to key players in the music industry.
In 1984, The Whites were inducted into the Grand Ole Opry. The group has released 14 studio albums. Their most recent, Salt of the Earth¸ was released in 2007 and was produced by Ricky Skaggs. The album earned them a Grammy award for Best Southern, Country, or Bluegrass Gospel Album of the Year. The Whites make regular appearances on the Grand Ole Opry stage.
Newsletter Signup
Signup to be notified when new dates are added:
Upcoming Dates at Grand Ole Opry:
Bill Anderson
,
Eric Paslay
,
Jeannie Seely
,
Jesse McReynolds
,
Maddie & Tae
,
Mark Wills
,
Mike Snider
,
Moe Bandy
,
Riders In The Sky
,
Stephanie Quayle
,
Tegan Marie
,
The Whites
,
Williams & Ree
, and more to be added.