The Time Jumpers At Grand Ole Opry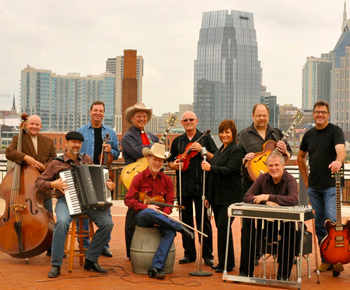 Award-winning Western swing group, The Time Jumpers, cam to fruition in 1998 when several well-known musicians decided their free time would be better spent drinking beer and jamming with their friends. They were not trying to create a new music group but that's exactly what they did. The group has changed members often throughout the years, the current group features 11 member—Dennis Crouch (upright bass), Larry Franklin (fiddle), Paul Franklin (steel guitar), Vince Gill (vocals, electric and acoustic guitars), Doug Green (vocals, acoustic rhythm guitar), Andy Reiss (electric guitar), Dawn Sears (vocals), Kenny Sears (vocals and fiddle), Joe Spivey (vocals and fiddle), Jeff Taylor (accordion and piano), and Billy Thomas (drums and vocals).
In the beginning, they chose to play slow evenings at the Station Inn bluegrass club in town. In no time, the slow nights became the busy nights and the group had earned themselves quite the following. Soon, other musicians were stopping by the Station Inn to play, but mostly just listen, to the unique array of country, swing, jazz, and pop that the group churned out each and every night.
It took very little time for the group's evenings in Nashville to turn into albums.
In 2007, they released a live album, Jumpin' Time, which earned them two Grammy nominations. Then in 2012, they released a studio album, The Time Jumpers, which was mostly written by the group's many members except for a few cover songs.
Newsletter Signup
Signup to be notified when new dates are added:
The Time Jumpers has
no current dates
scheduled at Grand Ole Opry.
Click here
for complete schedule. Sign up for newsletter to be notified when dates are added.