The Isaacs At Grand Ole Opry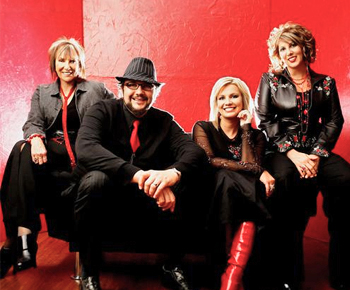 The Isaacs are a true family band, comprised of matriarch and singer Lily Isaacs, daughter Sonya on vocals and mandolin, daughter Rebecca on vocals and guitar, son Ben on upright bass and vocals, and John Bowman, Rebecca's husband, on banjo. For 30 years, the Isaacs have used their unique mixture of bluegrass picking and gospel vocals to share their faith as they tour across the country.
Lily Isaacs is the daughter of two Holocuast survivors from Poland. She grew up in the Bronx and appeared in Off Broadway productions before her gospel music career. Lily began playing gospel music in 1971, when she became Christian after suffering a personal loss. Now she is joined by her talented children. The Isaacs are known for their beautiful harmonies and skillful acoustic arrangements. They have frequently been guests on projects by other artists, including Dolly Parton, Brad Paisley, Vince Gill, Paul Simon, Trisha Yearwood and many more. The Isaacs are frequently featured on the Gaither Homecoming Videos and Concert Series and often appear at the Grand Ole Opry.
The Isaacs have released more than 20 albums. Their first No. 1 hit was the acoustic gospel song "I Have A Father Who Can," followed by "From the Depths of My Heart," which was also named song of the year by Gospel News and Gospel Voice. Their other hits include "Stand Still," "He Understands My Tears," and "Heroes." The Isaacs also have numerous Singing News Fan Awards. The group has won four Dove Awards, including Country Album of the Year for Big Sky.
Newsletter Signup
Signup to be notified when new dates are added:
The Isaacs has
no current dates
scheduled at Grand Ole Opry.
Click here
for complete schedule. Sign up for newsletter to be notified when dates are added.