The Infamous Stringdusters At Grand Ole Opry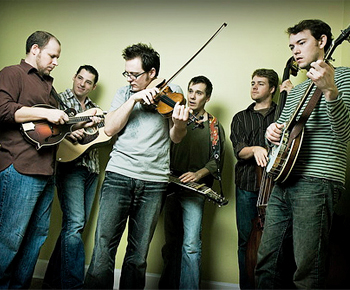 The Infamous Stringdusters are a bluegrass band, but to their fans they're also far more than that. The Infamous Stringdusters are at the forefront of the new bluegrass sound. Their clever lyrics and rock 'n' roll influences have earned them high praise from critics and strong reactions from fans. The Infamous Stringdusters are Andy Falco on guitar, Chris Pandolfi on banjo, Andy Hall on dobro, Travis Book on upright bass, and Jeremy Garrett on fiddle. Stringdusters songs are sung by whoever wrote them. The band members first came together as a jam band and, true to their beginnings, they still play improvisational tunes in concert. The band aims to write songs that appeal to people who live life from all angles, hoping that their songs can act as a soundtrack to life. The response to their music, with songs like "night on the River," "The Place that I Call Home," "Well, Well," and "You Can't Handle the Truth" indicate that they are succeeding.
The Infamous Stringdusters have made four studio albums, the most recent of which, Silver Sky, released by their own record label. They are focused on live performances and produce a yearly music festival in central Virginia, The Festy Experience, which feautures music of all types, mountain bike races, rock climbing, hiking, meditation, yoga, and sustainable food practices.
The Infamous Stringdusters won 3 IBMA Awards following the release of their first album, Fork in the Road. The Infamous Stringdusters were 2007's Emerging Artists of the Year and also took home awards for Song of the Year and Album of the Year, for which Fork in the Road tied with an album by J.D. Crowe. Their song "Magic No. 9" was nominated for a Grammy in 2009. The Infmaous Stringdusters made their Grand Ole Opry debut in 2007.
Newsletter Signup
Signup to be notified when new dates are added:
The Infamous Stringdusters has
no current dates
scheduled at Grand Ole Opry.
Click here
for complete schedule. Sign up for newsletter to be notified when dates are added.