The Farm At Grand Ole Opry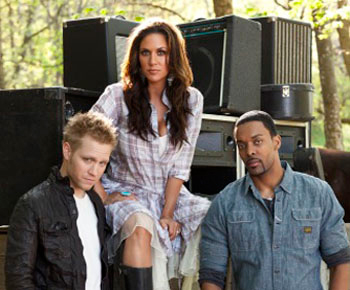 The Farm was born when three musicians began casually playing around with a fiddle riff at a casual lakehouse hangout. Once Damien Horne, Nick Hoffman, and Krista Marie discovered that their voices blend together into a perfect country harmony, there was no stopping them.
The three musicians come from very different backgrounds, and their past experiences are reflected in their new musical endeavor. Marie is a former solo vocalist familiar with opera and standards, Hoffman a traditional country fiddler, and Horne played in R&B and alt-rock groups and is also part of the MuzicMafia songwriting collective. Their debut album, The Farm, incorporates R&B rhythms, hip hop hooks, and fiddle melodies, all blended into a sound that is recognizably country and centered fully on the trio's vocal harmonies.
The Farm's first single, "Home Sweet Home" became a hit and climbed to No. 20 on country charts. They were invited to perform at the CMT Awards Show and made their Opry debut in February of 2012.
Newsletter Signup
Signup to be notified when new dates are added:
The Farm has
no current dates
scheduled at Grand Ole Opry.
Click here
for complete schedule. Sign up for newsletter to be notified when dates are added.