The Derailers At Grand Ole Opry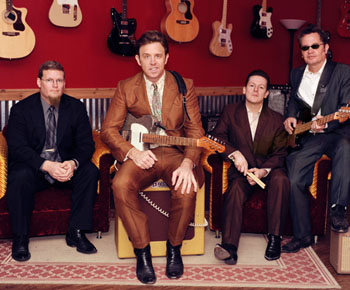 Founded by Portland, Orgeon natives Tony Villanueva and Brian Hofeldt in 1994, country band The Derailers first released an album in '95, Live Tracks. The album was the first release of the independent label Freedom Records, based out of Austin, Texas. Live Tracks made The Derailers one of the most talked about acts at the South by Southwest music festival in Austin in the same year. At the same time, Americana radio stations were multiplying as various forms of non-mainstream country music were becoming popular. The Derailers represented the "traditional honky-tonk" end of the sub-genre.
Throughout their career, they released several albums, which featured popular singles like "Just One More Time," "The Right Place," "More of Your Love," "Genuine," "I'm Still Missing You," "Hey Valerie" and "Big in Vegas."
Around the time their 2003 album Genuine was released, founding member Tony Villanueva announced he was leaving the band. Brian Hofeldt became the front man after some shuffling of the band's lineup and, despite the departure of Villanueva, the band has more than passed into the realm of successful mainstream country music.
The sound of The Derailers has been inspired by acts like The Beatles, Roy Orbison and The Beach Boys.

Newsletter Signup
Signup to be notified when new dates are added:
The Derailers has
no current dates
scheduled at Grand Ole Opry.
Click here
for complete schedule. Sign up for newsletter to be notified when dates are added.