The Cleverlys At Grand Ole Opry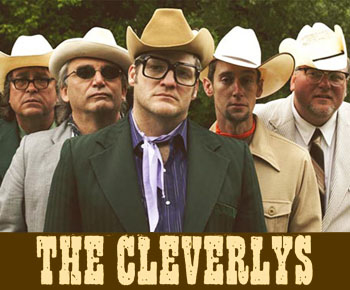 Hailing from a remote area in the Ozark Mountains, nearby Cane Spur, Arkansas, the Cleverlys currently consists of Digger, Miles, Vernon Dean, Harvey D and Otto. At one time or another, the whole family has played in the family band, the Cleverly Trio. In 2005, Digger Cleverly took over the band. Digger is the oldest boy and has been playing music with his family since 1974. Every spring, the Cleverly Trio has an annual festival on Cleverly Mountain. The festival brings people from all over the country.
At age fourteen, Digger got his first outside gig as the guitar tech for Leaf Garrett. In the 1980s, he toured with The Rickets and recorded with Avery Noonan. He produced his album Gypsy Wagon, and wrote the song "Dry Hunch" for the group Barn Door, which peaked in the Top 100. In the late 90s, he founded Stabbin' Cabin Records and signed the Cleverly Trio to a multi-album deal.
The Cleverlys perform popular songs in a bluegrass manner, including "Single Ladies (Put A Ring On It)," "Angel," "Lizard Man," "I Gotta Feeling," "Hocus Pocus," "I Wanna Be a Billionaire" and "Clumsy."
Newsletter Signup
Signup to be notified when new dates are added:
The Cleverlys has
no current dates
scheduled at Grand Ole Opry.
Click here
for complete schedule. Sign up for newsletter to be notified when dates are added.