The Civil Wars At Grand Ole Opry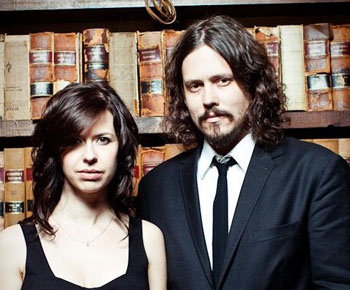 Grand Ole Opry guest duo The Civil Wars is comprised of Joy Williams and John Paul White, and mixes Americana, folk and Indie folk sounds into their music. Williams and White met in 2008 during a songwriting session in Nashville, Tennessee. They released a live performance album and a four-song extended play before coming out with their full-length album, Barton Hollow, in 2011. Williams stated that the name of the band came as she was driving around and seeing all of the Civil War monuments and she "thought about all the wars that we each face." The band name and their single "Poison and Wine" describe their thematic direction: the good, the bad and the ugly of relationships. In 2012, they performed at the Ryman Auditorium.
The Civil Wars have also released, besides "Poison and Wine," the singles "Barton Hallow," "Dance Me to the End of Love," "Birds of a Feather" and "Billie Jean." They have also performed with The Chieftains to release the single "Lily Love" and have been featured on the album The Hunger Games: Songs from District 12 and Beyond with their single "Kingdom Come" and on fellow artist Taylor Swift's single "Safe & Sound."
In 2011, The Civil Wars were nominated for four awards from the CMT Music Awards, the Americana Music Association and the Country Music Association Awards. They also won the ASCAP Awards' Vanguard Award the same year. In 2012, they won the 54th Grammy Awards for Best Folk Album for Barton Hollow and the Best Country Duo/Group Performance award for the song "Barton Hollow." They were nominated for three awards from CMT and two from CMA. The Americana Music Association also named them the Duo/Group of the Year in 2012.
On November 6, 2012, The Civil Wars announced that they would no longer be touring together on account of "internal discord and irreconcilable differences of ambition."
Newsletter Signup
Signup to be notified when new dates are added:
The Civil Wars has
no current dates
scheduled at Grand Ole Opry.
Click here
for complete schedule. Sign up for newsletter to be notified when dates are added.