Tennessee Mafia Jug Band At Grand Ole Opry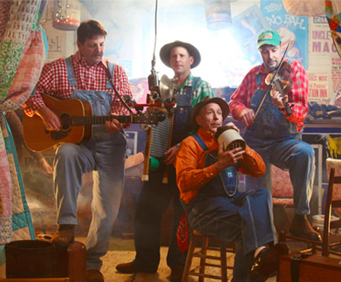 Tennessee Mafia Jug Band is an all-around old-time entertainment act. Not only do they play old fashioned tunes featuring banjo, fiddle, washboard, and jug, they wear costumes, perform slapstick antics, and tell corny jokes. The Tennessee Mafia Jug Band consists of "Lonesome" Lester Armistead on jug, Dan Kelly on fiddle, David 'Ferg" Ferguson on bass fiddle, Leroy Troy on banjo and washboard, and Mike Armistead on guitar, joined from time to time by Mike Webb on dobro and steel guitar.
The Tennessee Mafia Jug Band may be famous for making audiences laugh with refreshing old-timey entertainment, but the band's musical talent exceeds that of any mere novelty act. The band members each have long careers in bluegrass and folk music and impressive credentials. For example, Kelly is a winner of the Grand Master Fiddle Contest in Nashville. The band can perform hilarious country comedy and deliver skillful picking and powerful harmonies , which has made them fan favorites at bluegrass festivals across the nation. The Tennessee Mafia Jug Band is equally at home with serious songs like "Gathering Flowers from the Hillside" and "Just a Friend" and boistrous, clever numbers like "Bicycle Wreck" and "Nero Played His Fiddle." Tennessee Mafia Jug Band has released three albums: Barnyard Frolic, Poor Leroy's Almanack, and Screams from the Hollow. They have played at the Grand Ole Opry more than a dozen times.
Newsletter Signup
Signup to be notified when new dates are added:
Tennessee Mafia Jug Band has
no current dates
scheduled at Grand Ole Opry.
Click here
for complete schedule. Sign up for newsletter to be notified when dates are added.