Tanya Tucker At Grand Ole Opry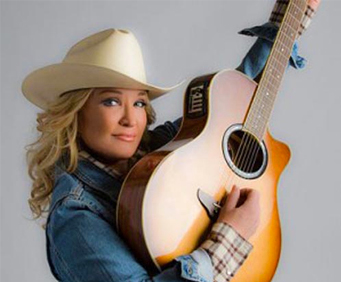 Country singer and songwriter Tanya Tucker has been entertaining fans of the genre since 1972. Born in 1958 in Seminole, Texas, Tucker spent most of her early childhood in Willcox, Arizona, a town whose only radio station played country music. When she was just eight years old, Tucker already knew that what she wanted to be was a country singer. After spending time appearing in the film Jeremiah Johnson and singing at fairs, Tucker made her country music debut when she sang alongside Mel Tillis. In 1969, her family moved to Vegas, where she was able to regularly perform. Tucker was just a teenager when she was signed on to Columbia Records.
Throughout her career, Tucker has released nearly seventy singles, including fifteen Number One hits. Her first chart-topper came in 1973 with "What's Your Mama's Name." It was quickly followed the same year by two more Number One hits: "Blood Red and Goin' Down" and "Would You Lay with Me (In a Field of Stone)." In '75, her fourth and fifth Number One singles came with "Lizzie and the Rainman" and "San Antonio Stroll." Tucker topped the chart more in the 80s, with songs like "Just Another Love," "If It Don't Come Easy" and "Strong Enough to Bend." Throughout the 90s, Tucker didn't release one single that did not reach the Country charts.
Tucker has been recognized with a number of awards, as well, in addition to nine Grammy nominations. She has been awarded with the Top New Female Vocalist award from the Academy of Country Music, as well as the Female Vocalist of the Year from CMA. From CMT, she won the June Artist of the Month award in '94 and the March Artist of the Month award in '97. In 2002, CMT ranked her at Number Twenty on their 40 Greatest Women of Country Music list.
Newsletter Signup
Signup to be notified when new dates are added:
Upcoming Dates at Grand Ole Opry: