T.G. Sheppard At Grand Ole Opry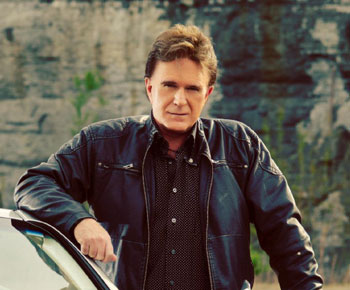 Born in 1944 Humboldt, Tennessee, T.G. Sheppard is an American country music singer who had 21 Number 1 hits during the '70s and '80s.
T.G. dropped out of high school and ran away from home at the age of 15 to become involved in the music industry in Memphis. Initially he worked in the record business and tried recording pop music under the name Brian Stacy before adopting the Sheppard name.
In 1974, T.G. signed with Melodyland Records, a short-lived country label owned by Motown Records. He recorded the Number 1 hit "Devil in the Bottle," and the follow-up "Tryin' to Beat the Morning Home" also went to Number 1 and cracked the Top 100 during the summer of 1975. In 1977, he signed with Warner Bros. Records and had a series of 15 consecutive Top 10 releases, including ten Number 1 songs, over the next few years.
His success continued until about 1988, after moving from Warner Bros. to Columbia Records in 1985. T.G. continued to tour throughout the '90s, but did not sign a new record contract and did not release any new material until his 2002 live release T.G. Sheppard: Live at Billy Bob's, which found him performing his classic hits for an enthusiastic crowd at the famed honky-tonk in Fort Worth, Texas.
In 2004, T.G. released Timeless, an album that had him singing songs from the big band era.
Newsletter Signup
Signup to be notified when new dates are added:
T.G. Sheppard has
no current dates
scheduled at Grand Ole Opry.
Click here
for complete schedule. Sign up for newsletter to be notified when dates are added.