Sweethearts of the Rodeo At Grand Ole Opry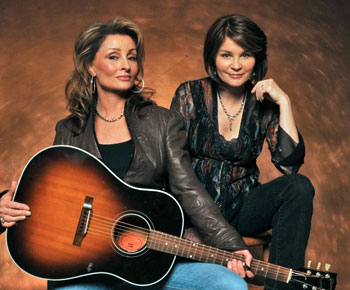 With a name taken from an album by The Byrds, sisters Janis and Kristine Oliver made their rise to fame after being discovered by country artist Emmylou Harris. Janis and Kristine began singing when they were just in elementary school and, during their teenage years, performed bluegrass music under the name the Oliver Sisters. After they renamed themselves Sweethearts of the Rodeo, the duo began securing slots as opening acts and backing vocalists. In 1977, they opened the show for Vince Gill, whom Janis later married. Janis and Vince moved to Nashville in '83 and were shortly after followed by Kristine and her husband.
It was in 1985, that Sweethearts of the Rodeo signed with Columbia Records. Their first single, "Hey Doll Baby," was released the next year and just narrowly missed the Top 20 on the charts. It was followed, however, by seven consecutive Top 10 singles, including "Midnight Girl/Sunset Town," "Chains of Gold," "Satisfy You" and "Blue to the Bone."
Newsletter Signup
Signup to be notified when new dates are added:
Sweethearts of the Rodeo has
no current dates
scheduled at Grand Ole Opry.
Click here
for complete schedule. Sign up for newsletter to be notified when dates are added.