Sugarland At Grand Ole Opry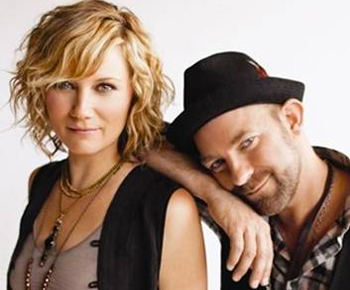 Bursting onto the country music scene in 2004, Sugarland made it big with their debut single "Baby Girl" a rags to riches story about a singer reaching fame. Little did they know that soon they would be experiencing the riches part of the equation. The country music duo is comprised of singer/songwriters Jennifer Nettles on vocals and Kristian Bush on vocals, mandolin, acoustic guitar, and harmonica.
In 2004, the group released their debut album, Twice the Speed of Life, with the debut single "Baby Girl." The song peaked at No. 2 on the Hot Country Songs Chart and set the record for the longest chart run since 1990 and the highest-peaking debut single for any group since 1991. Popular songs on the album include "Something More," which charted at No. 2, and "Just Might (Make Me Believe)," which charted at No. 7.
In 2006, Sugarland released their second album, Enjoy the Ride, which sold 211,000 copies during the first week and debuted at No. 2 on the Top Country Albums Chart. "Want To" and "Settlin'" both rocketed to No. 1 on the Top Country Songs Chart and the songs "Everyday America" and "Stay" both made the Top 10. In 2010, they released The Incredible Machine featuring the hit songs "Little Miss" and "Wide Open."
The group has released 4 studio albums, 5 No. 1 Country Singles, and has won 18 major awards. Their No. 1 Top Country Songs are "Want To," "Settlin'," "All I Want To Do," "Already Gone," and "It Happens."
Sugarland debuted at the Grand Ole Opry on November 12, 2004.
Newsletter Signup
Signup to be notified when new dates are added:
Sugarland has
no current dates
scheduled at Grand Ole Opry.
Click here
for complete schedule. Sign up for newsletter to be notified when dates are added.