Steve Holy At Grand Ole Opry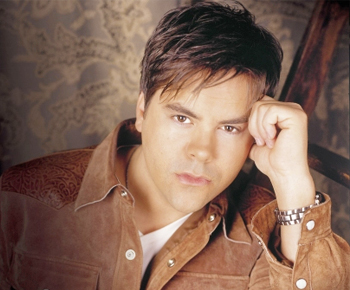 Persistence, passion, and tenacity are just a few words used to describe country music star Steve Holy. In 1993, at age 21, Holy beat out 500 other contestants in the Johnnie High Country Review in Arlington, Texas, giving him the big break he was searching for. The same show also launched the careers of LeAnn Rimes and Shane McAnally. Holy finished first in the competition and was voted "Entertainer of the Year" by his fans less than a year later.
Soon after the competition, he signed a recording deal with Curb Records and released Blue Moon in 2000. The album garnered quite a bit of attention for Holy with the tracks "Don't Make Me Beg" which peaked at No. 29 on the Top Country Songs Chart, "Blue Moon" at No. 24, "The Hunger" at No. 24, and "Good Morning Beautiful" at No. 1. The album eventually went Gold in 2009, nine years after its release.
For the next couple of years, Holy released several non-album singles before releasing his second album, Brand New Girlfriend, in 2005. The album peaked at No. 2 on the Hot Country Albums Chart and the title track for the album became Holy's second No. 1 hit. Other hits from the album include, "Come On Rain" and "Men Buy the Drinks (Girls Call the Shots)."
In 2011, Holy released his third album, Love Don't Run. Popular songs from the album include, "Love Don't Run," "Until the Rain Stops," and "Hauled Off and Kissed Me." After the album was released, Holy decided to take time off to spend time with his two young daughters in his hometown of Dallas. He has since returned to touring with a new vigor saying, "More than anything, I feel like I have a lot in the tank and I want to go as long as people want to hear me. And I think there are a lot of people that want to hear what we have coming next."
Newsletter Signup
Signup to be notified when new dates are added:
Steve Holy has
no current dates
scheduled at Grand Ole Opry.
Click here
for complete schedule. Sign up for newsletter to be notified when dates are added.