Shooter Jennings At Grand Ole Opry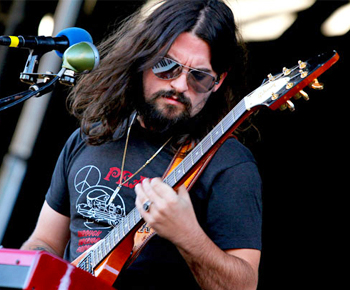 Son of country music icons Waylon Jennings and Jessi Colter, Shooter Jennings was destined for greatness in the music world. He was raised aboard a tour bus as his parents were frequently performing on tour. It didn't take long before he was pounding the drums at age five. Soon after, at age 8, he began to play the piano. Finally, at age 14, he picked up a guitar, the instrument that would help him find his sound, which would end up as a combination of Lynyrd Skynyrd and Guns N' Roses. In 2001, he left his hometown of Nashville to try out his luck in Los Angeles. He formed the band Stargunn, a punk rock band for which he played piano. The band managed to build an avid following but Jennings dissolved the band in 2003 to pursue country music. This change in heart could have been due to the death of his father in 2002.
In 2005, Jennings signed a recording contract with Universal Records and released his debut album Put the "O" Back in Country later that year. The lead-off single "Fourth of July" featured country legend George Jones and was a huge hit with fans. In 2006, he released another album, Electric Rodeo and followed with The Wolf in 2007. His backup band The .357's who accompanied him on each album changed their name to Hierophant in 2009. He released two more albums Black Ribbons in 2010 and Family Man in 2012. Both were well received. Shooter Jennings' hit songs include "Steady at the Wheel," "Gone to Carolina," "It Ain't Easy," "Outlaw You," and "The Real Me" to name a few.
Shooter Jennings made his Grand Ole Opry debut on September 25, 2007. He has plans to release an album, The Other Life, in 2013.
Newsletter Signup
Signup to be notified when new dates are added:
Shooter Jennings has
no current dates
scheduled at Grand Ole Opry.
Click here
for complete schedule. Sign up for newsletter to be notified when dates are added.