Riders In The Sky At Grand Ole Opry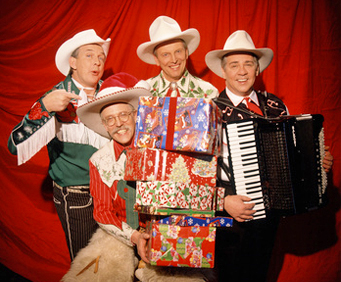 Riders in the Sky is a western music group that began performing in 1977. For all those years, the band boasts that they have had the same four members, affectionately known as Ranger Doug on guitar and vocals, Woody Paul on fiddle and vocals, Too Slim on bass and vocals, and Joey the Cowpolka King on accordion. The key to their success for so many years? "Separate hotel rooms," quips Ranger Doug.
Over the years, the classic cowboy quartet has participated in more than 6200 live performances in all 50 states, nearly 300 national television appearances, over 200 public radio shows, almost 700 Grand Ole Opry appearances, and much more.
Their wacky cowboy humor has landed them in the hearts of children and adults of all ages. They have released more than 30 albums since their 1977 debut including a beloved favorite, Woody's Roundup featuring Riders in the Sky for the Walt Disney/Pixar animated classic Toy Story 2, which earned them their first Grammy Award for Best Musical Album for Children in 2001.
They have received some pretty impressive accolades throughout the years including their Grand Ole Opry induction in 1982, their induction into the Western Music Association's Hall of Fame, they're won two Grammy's for Best Musical Album for Children, and they've won the Western Music Association's "Entertainers of the Year" seven times to name just a few of their awards. But most importantly, they are America's Favorite Cowboys, Riders in the Sky!
Newsletter Signup
Signup to be notified when new dates are added:
Upcoming Dates at Grand Ole Opry: