Quebe Sisters Band At Grand Ole Opry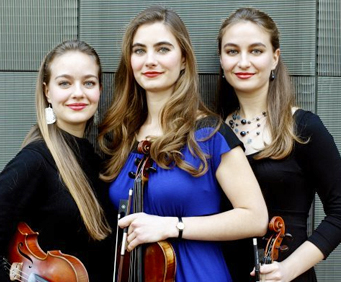 Grace, Sophia, and Hulda Quebe are the core of an old-time Western swing band. When the sisters were 7, 10, and 12 years old, they began taking fiddle lessons. They focused on Western swing and old-time Texas-style fiddling, and quickly began bringing home prizes from regional fiddling contests. Backed by their mentor and fiddle instructor Joey McKenzie on rhythm guitar and Drew Phelps on bass, the sisters released their first album as The Quebe Sisters Band, Texas Fiddlers, in 2003. In 2005, the Quebe (pronounced kway-bee) girls began singing as well, weaving impeccable 3 part harmonies through their already impressive fiddle melodies, releasing an albums with singing, Timeless, in 2007. The sisters' blend of Western swing, bluegrass, jazz, swing standards, and vintage country hearkens back to an era of music that is mostly relegated to scratchy old records. The Quebe Sisters Band successfully revitalizes the sounds of the past in a way that amazes audiences in the present. They've received glowing praise from country legends as well as the mainstream press, with Larry Gatlin claiming them as his favorite musical group. The Quebe Sisters have been featured guests on many country/bluegrass TV and radio programs and are mainstays on the festival circuit.
Newsletter Signup
Signup to be notified when new dates are added:
Quebe Sisters Band has
no current dates
scheduled at Grand Ole Opry.
Click here
for complete schedule. Sign up for newsletter to be notified when dates are added.