Pure Prairie League At Grand Ole Opry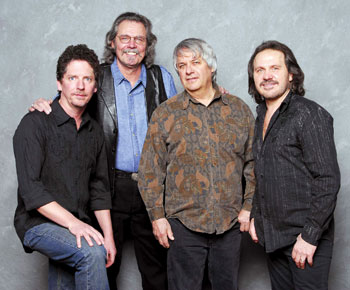 Formed in Columbus, Ohio with roots tracing back to Waverly, Pure Prairie League is an American country-rock band with success dating back to the 1970s. The original members, Craig Fuller, Tom McGrail, Jim Caughlan, and John Call, began playing together in high school.
Founding member Tom McGrail named the band after a fictional 19th century temperance union featured in the 1939 Errol Flynn cowboy movie Dodge City. Even with a few years of inactivity here and there, the band is still going strong and performs at least 100 shows a year.
The band's discography includes charting albums Two Lane Highway, If the Shoe Fits, Takin' the Stage, and Firin' Up, with their biggest single being 1980's "Let Me Love You Tonight."
In 2000, the band reunited under original member Craig Fuller who had left the group in 1973. In 2005, they released All in Good Time, their first album in 18 years. The band continues to tour with an ever-changing lineup. According to their website, "It's no surprise that after all these years their sound is what country radio is about, proving good music is good music no matter when it's made or played."
Now you can see their rock-country style and great showmanship at the biggest scene in country music; The Grand Ole Opry. Get your spots today to see this legendary band and have an experience you won't soon forget!
Newsletter Signup
Signup to be notified when new dates are added:
Pure Prairie League has
no current dates
scheduled at Grand Ole Opry.
Click here
for complete schedule. Sign up for newsletter to be notified when dates are added.