Porter Wagoner At Grand Ole Opry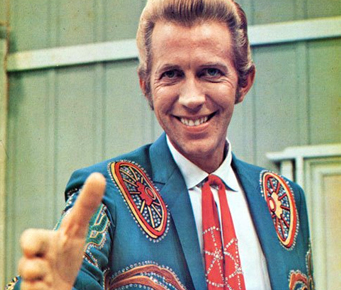 Born in August of 1927 in West Plains, Missouri, country singer Porter Wagoner has been dubbed "Mr. Grand Ole Opry," after a line of successful songs and an induction to the esteemed Grand Ole Opry. Wagoner kick started his career with his first band, The Blue Ridge Boys, who performed on a local radio station from a butcher shop in West Plains. In '51, Wagoner was hired to sing on a radio station in Springfield, Missouri, leading him to his contract with RCA Victor. Since then, he released a string of successful songs and appeared on shows like Ozark Jubilee. In 1957, he moved to Nashville and joined the Grand Ole Opry.
Wagoner released eighty singles throughout his career on more than fifty albums. His singles charted numerous times, including many Top 10 hits, like "Company's Comin'," "Eat, Drink and Be Merry (Tomorrow You'll Cry)," "What Would You Do? (If Jesus Came to Your House)" and "I've Enjoyed as Much of This as I Can Stand." He had three Number One hits as well: "A Satisfied Mind," "Misery Loves Company" and a duet with Dolly Parton, "Please Don't Stop Loving Me."
Wagoner has a number of awards to his name as well, including three Grammys for Best Sacred Recording (Musical) and Best Gospel Performance. He also won three CMA award with Dolly Parton and three Music City News Country awards.
From 1960 to 1981, Wagoner had a successful television show, The Porter Wagoner Show. In 1967, he introduced Dolly Parton on the show. Throughout the rest of that decade and early on in the next, he and Parton were a successful vocal duo.
In 2007, Wagoner passed away from lung cancer. His funeral was held at the Grand Ole Opry House and he was buried in Nashville.
Newsletter Signup
Signup to be notified when new dates are added:
Porter Wagoner has
no current dates
scheduled at Grand Ole Opry.
Click here
for complete schedule. Sign up for newsletter to be notified when dates are added.