Poco At Grand Ole Opry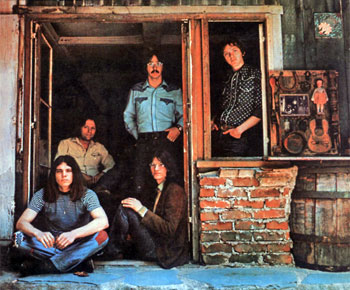 In 1968, out of Buffalo Springfield's ashes came the country rock band Poco. Formed by Richie Furay, Jim Messina, and Rusty Young in 1968, Poco was created when Furay, a then-member of Buffalo Springfield, was recording a solo song with the help of his producer, Messina, and pedal steel guitarist, Young. The trio loved the country-influenced ballad "Kind Woman" so much that they formed their band around that very song. Their first album Pickin' Up the Pieces received a rare perfect rating from Rolling Stone magazine. The album was a subtle commentary that plays upon the breakup of Buffalo Springfield. For 45 years, the band continued to release albums every few years but due to low sales and a low fan base, the band swapped members every few years. Their biggest album, Legend, which was released in 1978 had two Top Twenty Hits, "Crazy Love" and "Heart of the Night." The band's other popular songs include "Pickin' Up the Pieces," "You Better Think Twice," C'Mon," and "A Good Feelin' to Know." In the nearly 50 years that Poco has been releasing albums, the group has changed musicians dozens of times. Only one member, Rusty Young, has remained the leader and front man on stage. Performing at every single gig and record since the band's inception, Young has never given up on the band. Poco most recently released the album All Fired Up in February 2013.
Newsletter Signup
Signup to be notified when new dates are added:
Poco has
no current dates
scheduled at Grand Ole Opry.
Click here
for complete schedule. Sign up for newsletter to be notified when dates are added.