Pistol Annies At Grand Ole Opry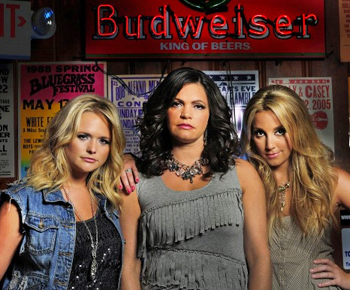 The Pistol Annies are a trio of country singers. Miranda Lambert, Angeleena Presley, and Ashley Monroe formed the band on a whim after Monroe introduced Lambert to the music of her longtime friend, Presley. The three ladies clicked and immediately began writing songs together. Under the nicknames "Holler Annie" (Presley), "Hippie Annie" (Monroe), and "Lone Star Annie" (Lambert), the trio sings songs with a healthy dose of defiant attitude. Many of the Pistol Annies' songs also contain realism and a reflection of the parts of life that most of modern country doesn't mention, like "Beige," written from the perspective of a young bride who feels judged, and "Housewife's Prayer," about the frustration of the inability to make ends meet. These ladies can also do rowdy, fun songs just as well as they do heartache; their fist single "Hell on Heels" is a sassy, girl-power country anthem.
The band was formed quickly and didn't have to wait long to step into the spotlight. When the Annies had only six songs completed, they were invited to perform in the the Academy of Country Music's TV special, Girls' Night Out: Superstar Women of Country. "Hell on Heels" proved to be a hit. In December 2011, they headlined three sold out shows, and less than two years after their live debut, the Pistol Annies made their debut on the Grand Ole Opry stage, in September 2012. They have been nominated for CMT and ACA awards, and their song "Run Daddy Run" is featured on the companion CD of the film The Hunger Games. The Pistol Annies have released one album, Hell on Heels.
Newsletter Signup
Signup to be notified when new dates are added:
Pistol Annies has
no current dates
scheduled at Grand Ole Opry.
Click here
for complete schedule. Sign up for newsletter to be notified when dates are added.