Paul Franklin At Grand Ole Opry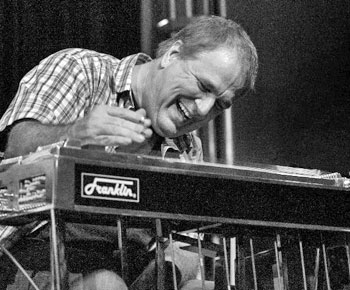 Mainly known for his work as a steel guitarist, Paul Franklin is a multi-instrumentalist and musician. Paul began his career in the 1970s as a member of Barbara Mandrell's road band, and he also toured with Mel Tillis and Jerry Reed. Since then, he has become a prolific session musician in Nashville, playing on more than 500 albums. He has been named by the Academy of Country Music as Best Steel Guitarist on several occasions.
In addition to the pedal steel guitar and lap steel guitar, Paul plays Dobro, fiddle, and drums, as well as three custom-built instruments. Known for bringing these musical innovations to the country music scene, Paul built an instrument invented by his father, the Pedabro, a type of Dobro fitted with a pedal and played like a pedal steel guitar. Paul also created two new variations of the steel guitar, including the baritone steel guitar and a lap steel guitar nicknamed "The Box."
Paul has worked with many well known acts during his career, including Dire Straits, Rodney Crowell, Notting Hillbillies, Sting, George Strait, Alan Jackson, Faith Hill, Shania Twain, Barbra Streisand, Reba McEntire, Patty Loveless, Kathy Mattea, and Megadeth. Paul is a member of The Time Jumpers, a country and bluegrass band, and in July 2013, he and Vince Gill released a collaborative album called Bakersfield.
Newsletter Signup
Signup to be notified when new dates are added:
Paul Franklin has
no current dates
scheduled at Grand Ole Opry.
Click here
for complete schedule. Sign up for newsletter to be notified when dates are added.