Parmalee At Grand Ole Opry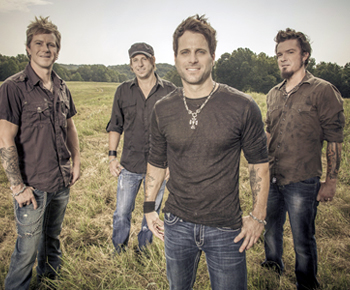 It all began in Parmele, NC with four young men. Brothers Matt and Scott Thomas grew up watching their father, Jerry Thomas, front a local rock blues band from the sidelines. They, and their cousin Barry Knox, loved jamming and learning from the band as they developed their own musical style. It all paid off when the young teenagers snuck into a club one night to watch their father perform. The band's guitar player had gotten too intoxicated to perform so Matt jumped on stage to play the songs he had been learning. Eventually, the three boys replaced the other band members and renamed the band The Thomas Brothers Band with Scott on drums and Barry on bass. Their friend Josh McSwain had a nearly identical upbringing with his father's own band so, when Jerry retired, Josh managed to fit into the group perfectly on guitar and keys. The boys immediately dubbed themselves Parmalee after their hometown. Their first big gigs were at a barn in the very small town. Every Tuesday and Thursday, the group practiced in the barn and they managed to draw quite the crowd. But they knew that they'd have to leave North Carolina to gain a following. So, they bought an RV to be an office/recording studio/home and road tripped all over the country before landing in the Comfort Inn parking lot in Nashville.
The group began to garner quite a bit of attention but it all fell apart when two gunman broke into their RV and fired three shots at Scott in 2010. Luckily, he was able to fire his own gun back to stop them hurting the other band members. Scott's femoral artery had been hit so he spent 35 days in the hospital, 10 of which were spent in a coma. Artists and fans came together to support the band and Scott eventually recovered just in time for their label showcase. They nailed the showcase and landed a deal with Stoney Creek Records. Their debut single "Musta Had A Good Time" is a Top 40 hit. The group made their Grand Ole Opry debut on March 1, 2013.
Newsletter Signup
Signup to be notified when new dates are added:
Parmalee has
no current dates
scheduled at Grand Ole Opry.
Click here
for complete schedule. Sign up for newsletter to be notified when dates are added.