Osborne Brothers At Grand Ole Opry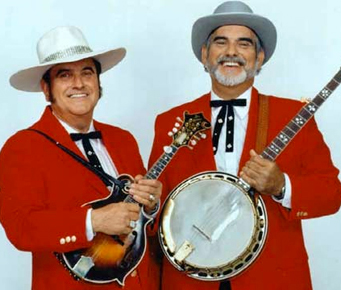 Best known for recording the 1967 song, "Rocky Top," that is belted out by University of Tennessee students every time their team scores, The Osborne Brothers has been rocking the country music genre for more than 60 years.
Bobby and Sonny grew up listening to the Grand Ole Opry on WSM 650 every week and Bobby yearned to sing just like Ernest Tubb. So, he began playing the guitar and learning everything he could just by listening to Tubb on the radio. One night, he heard a new sound on the radio, a sound that captivated him, it was Earl Scruggs with Bill Monroe and his BlueGrass Boys. Coincidentally, the group was coming to their hometown the next day. Knowing that he had to see how Scruggs played the banjo, he asked father if he could attend the concert. Bobby says that fateful day at Scruggs concert changed his life and helped him refocus his musical aspirations to bluegrass music. That's when he began to master the mandolin.
In 1952, at age 21 Bobby was drafted with the U.S. Marine Corps. Six years his junior, Sonny went to work with "The Father of Bluegrass Music," Bill Monroe whom the boys had met at Scruggs concert years earlier.
The two brothers officially formed their group in 1953. The brothers immediately teamed up with Jimmy Martin and began performing at local radio stations. The Osborne Brothers made their official debut in 1956 under MGM Records with the song, "Ruby Are You Mad." The song was a huge success and it helped the group gain some national attention.
The Osborne Brothers began to make their mark employing an inverted stacked harmony in their music. They had one band member sing the tenor, Bobby's distinctive voice was the high lead, and another band member sang an interchangeable part in the middle. This gave the band the power to replace band members without having to change their overall sound drastically. This "high lead" vocal trio became their signature sound and paved the way for other country trios. The sound is easily discernible on their hit songs, "Blame Me," "Sweethearts Again," and "Fair and Tender Ladies."
On August 8, 1964, The Osborne Brothers were inducted into the Grand Ole Opry. In 1973, they were the first bluegrass band to perform at the White House. The Osborne Brothers have recorded hundreds of hits including, "Once More," "Up This Hill & Down," "Making Plans," and "Tennessee Hound Dog."
In 2005, Sonny retired due to medical issues. Bobby continues to play after more than 60 years in the music business and more than 80 years on the planet. He plays with his band, Bobby Osborne & The Rocky Top X-Press, which is comprised of his son, Bobby Osborne Jr., Joe Miller, and David Crow.
Newsletter Signup
Signup to be notified when new dates are added:
Osborne Brothers has
no current dates
scheduled at Grand Ole Opry.
Click here
for complete schedule. Sign up for newsletter to be notified when dates are added.