Old Crow Medicine Show At Grand Ole Opry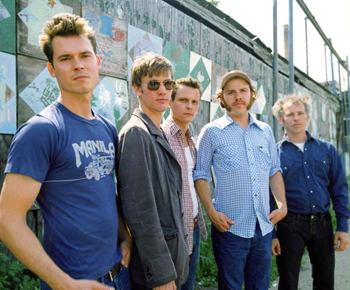 Old Crow medicine Show is an old-time string band whose sound has just a bit of alt-country twang. Old Crow Medicine Show got started busking in New York and across Canada. While playing in the street in Boone, north Carolina, they were noticed by folk legend Doc Watson, who invited the band to play at MerleFest in hopes of jumpstarting their career. Doc Watson's invitation was the boost the group needed. Their old-time, folk, alt-country, and bluegrass caught on with fans and they've now sold 800,000 albums. "Wagon Wheel" became Old Crow Medicine Show's breakout hit, along with "New Virginia Creeper," "James River Blues,' and "Levi." The band consists of Critter Fuqua on banjo, resonator guitar, guitar, and vocals; Morgan Jahnig on upright bass; Kevin Hayes on guitjo and vocals; Chance McCoy on guitar, fiddle, and vocals; Gill Landry on banjo, resonator guitar, guitar, and vocals; Ketch Secor onfiddle, banjo, harmonica, guitar, and vocals; and Cory Younts on mandolin and vocals.
They went on to Nashville, where they played between scheduled artists at the Grand Ole Opry to keep the crowds entertained, and made their official Opry debut in 2001. They've also remained popular at festivals, playing at large gatherings like Bonnaroo, Coachella, and the Hardly Strictly Bluegrass Festival. Old Crow Medicine Show are frequent guests on Garrison Keillor's radio show "A Prairie Home Companion." Old Crow Medicine Show joined Mumford & Sons and Edward Sharpe and the Magnetic Zeroes on the 2011 Railroad Revival Tour, in which the band rode in vintage train cars from California to New Orleans, playing at outdoor venues along the way. The tour is the subject of the documentary "Big Easy Express."
Newsletter Signup
Signup to be notified when new dates are added:
Old Crow Medicine Show has
no current dates
scheduled at Grand Ole Opry.
Click here
for complete schedule. Sign up for newsletter to be notified when dates are added.