Music City Rollin' Jamboree
Music City Rollin' Jamboree is no longer being offered.
Description
See Nashville's biggest sights, with a healthy dose of comedy and country music tour on this rolling, sing-a-long tour that is so much fun you won't be able to stop yourself from joining in!
Roll in style on a unique, custom bus past all the must-see sights in Nashville, including the
Country Music Hall of Fame
, Music Row and more. The Music City Rollin' Jamboree is much more than a
tour
, you'll be entertained the whole time by the hilarious comedy of a trained comedian, a country music expert, and one of the area's top crooners. Plus, you never know when a surprise guest artist might join the tour for an extra dose of exciting entertainment, or perhaps Mike Wolfe, star of The History Channel's American Pickers, may decide to join the sing-a-long fun.
While you journey through the Music City, past historic and important sites, like Honky Tonk Row and the
Ryman Auditorium
, the live narration comes with insider secrets about many of Nashville's biggest stars. You'll see a few of the filming locations of ABCs Nashville TV show and sites of historical importance to the music industry. If you can catch your breath from the side-splitting comedy, you are invited to sing along to the live performance of country favorites. The fun and laughs are non-stop on this fascinating tour; because that's the way they roll.
Detailed Tour Itinerary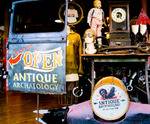 Stop at
Stop at
Antique Archaeology
Serving as a model of adaptive reuse of historic structures, Marathon Village is one of Nashville's most creative communities, with more than 45 tenants representing fine, commercial, and performing arts. Home to Mike Wolfe from the top rated show "American Pickers" on the History Channel, is the place to find beautiful antique treasures pulled out of the trash! The tour will make a quick stop here for a visit in Mike's unique and popular Nashville attraction.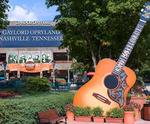 Drive By
Drive By
Downtown Nashville
When you visit Downtown Nashville, you will see more than just some great country western stars singing. Many of the famous places in Nashville are located in or near the historic downtown area.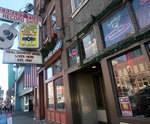 Drive By
Drive By
Ernest Tubb Record Shop
Founded by legendary musician Ernest Tubb, The Ernest Tubb Record shop has been providing country, gospel, & bluegrass music products for over 58 years. The shop specializes in hard to find videos, DVDs, cassettes, and books. In addition to all the unique items available, visitors can also tour The Green Hornet. This was the tour bus occupied by Tubb and his band from 1970 - 1979.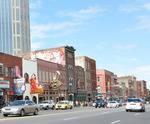 Drive By
Located along Lower Broadway, Honky Tonk Row became a creative breeding ground for hopeful performers, musicians, and songwriters yearning to make it in Music City. Today, this area maintains a down-to-earth musician hangout attitude while welcoming visitors from around the world.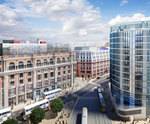 Drive By
Drive By
Music Row in Nashville, TN
Developed in the 1950s, Nashville's Music Row has become the headquarters of America's country music recording industry. Near downtown Nashville, Music Row is home to hundreds of businesses related to the country music, gospel music, and contemporary Christian music industries. This area is the heart of Nashville's entertainment industry.
Drive By
Drive By
The Ryman Auditorium in Nashville, TN
The famous Ryman Auditorium was opened as the Union Gospel Tabernacle in 1892 and renamed Ryman in the early 1900s. Its glorious past includes hosting the Grand Ole Opry from 1943 - 1974. If these walls could talk, they'd have some incredible country music history to tell. The Ryman Auditorium was added to the National Registry of Historic Places in 1971.
Stops may change due to traffic, weather, maintenance, etc.
No food, open cups, or leaking coolers are permitted on the Rollin' Jamboree Bus, but you are welcome to bring your own beverages for the tour. (Including Beer and Wine). While participation in the sing-a-longs is encouraged, talking and disruptive behavior is not permitted.