Moe Bandy At Grand Ole Opry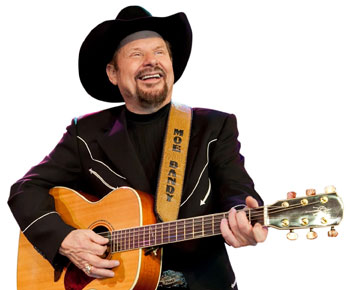 Nicknamed Moe by his father as a child, Marion Bandy was taught to play the guitar by his father who had a country band called the Mission City Playboys, but made little use of the ability until he was in his teens. He generally showed little interest in music during his high school years, focusing on rodeos instead. Later though, tired of the bruises and fractured bones, Moe began to pursue a career in country music.
He assembled a band called Moe And The Mavericks and found work playing small beer joints, honky-tonks, and clubs over a wide area around San Antonio, Texas. In the following twelve years, he made a few recordings for various small labels and worked by day as a sheet metal worker for his father.
In 1973, Moe went solo when record producer Ray Baker, who had listened to his demos the previous year, suggested that he come to Nashville. Once there, Moe recorded a song called "I Just Started Hatin' Cheatin' Songs Today," which initially received little interest but soon came to the attention of the Atlanta-based GRC label, and the song later peaked at Number 17 on the U.S. Country charts. The following year, he recorded "Bandy the Rodeo Clown," which was written by his friend Lefty Frizzell and Whitey Shaffer and became a Number 7 hit.
In the following years, he was a country chart regular with singles like "I'm Sorry for You, My Friend," and "Cowboys Ain't Supposed to Cry." He recorded "Just Good Ol' Boys" with Joe Stampley in 1979, and the success of the song led to a continuation of the partnership until the mid '80s. During the 1980s, Moe still maintained a steady line of solo successes, and over the years, he maintained a touring schedule averaging about 250 to 300 days a year.
Moe opened his popular Americana Theatre in Branson, Missouri, in 1991, where he performs frequently with his Americana Band. He and his brother were also inducted into the Texas Rodeo Cowboy Hall of Fame in 2007.
Newsletter Signup
Signup to be notified when new dates are added:
Moe Bandy has
no current dates
scheduled at Grand Ole Opry.
Click here
for complete schedule. Sign up for newsletter to be notified when dates are added.