Miranda Lambert At Grand Ole Opry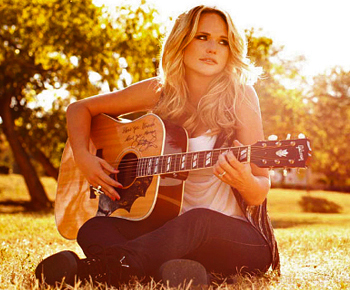 The young star burst onto the scene in 2003 as a Nashville Star finalist. Although Miranda Lambert didn't win the competition, she decided that was an advantage for her because the winner was required to make a record in a couple of weeks and, she admits, she wasn't ready.
Her interest in music started when she attended her first Garth Brooks concert at age nine with her parents. Soon after, she started performing country music in talent contests with her father who wrote and performed with her. At age 16, she began appearing on the Johnny High Music Review but decided to learn to write and perform her own music with her father due to her dislike of "pop" music. While still in high school, she formed her own band, The Texas Pride Band, and made her professional debut at the Reo Palm Isle Ballroom where Brooks & Dunn made their start. Her next step was the show Nashville Star.
After finishing third in the show, Lambert went on to sign with Epic Records. In summer 2004, she released her debut single, "Me and Charlie Talking," which she had co-written with her father and Heather Little. The song was the lead-off for her debut album Kerosene, which debuted at No. 1 on the Top Country Albums Chart and eventually went Platinum. Lambert immediately hit the road with her new album's songs in her head and her guitar around her neck. She toured with Keith Urban, George Strait, Dierks Bentley, and Toby Keith earning her some new fans.
In 2007, she released her second album, Crazy Ex-Girlfriend, featuring "Gunpowder & Lead," which landed at No. 7 on the Top Country Songs Chart. Lambert drew much of her inspiration from childhood when her family opened their home to an abused woman and her daughter. "I had heard about domestic abuse, but that was when it became real. Obviously, that influenced the 2008 hit 'Gunpowder & Lead,'" she said in an Entertainment Weekly interview.
In 2009, she debuted her third album Revolution, which was met with significant praise. "White Liar" off of the album peaked at No. 2 on the Top Country Songs Chart. Lambert married fellow country singer Blake Shelton in 2010 and said, "I'm married to my best friend! Looking forward to a lifetime of laughter."
In 2011, Lambert debuted with her new girl group Pistol Annies with fellow country gals, Ashley Monroe and Angaleena Presley. The released their debut album, Hell on Heels, in May of that year. It was a busy year for her as she released Four the Record in November of that year.
Lambert has three No. 1 singles, "The House That Built Me," "Heart Like Mine," and "Over You." All of her albums have reached No. 1 on the Top Country Albums Charts. She has won 25 major awards including the Country Music Association's Female Vocalist of the Year Award in 2010, 2011, and 2012.
About her music, Lambert says, "My songs talk about real things. Things that I've been through or I've witnessed through my friends and family… If I feel it, I can sing it and make anyone believe it."
Newsletter Signup
Signup to be notified when new dates are added:
Miranda Lambert has
no current dates
scheduled at Grand Ole Opry.
Click here
for complete schedule. Sign up for newsletter to be notified when dates are added.