Marty Stuart At Grand Ole Opry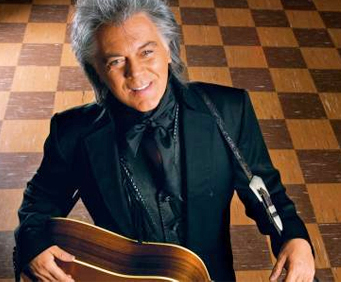 Marty Stuart began his career as a teenage country music prodigy and became known for his eclectic tastes and signature blending of rockabilly and honkytonk with traditional country elements.
Marty Stuart was born in Philadelphia, Mississippi. He became interested in music at a young age and taught himself to play guitar and mandolin. When Stuart was 12 years old he began playing mandolin with bluegrass legend Lester Flatt. Later, Stuart was part of Johnny Cash's backing band and has gone on to a successful solo career recording, producing, songwriting, and hosting a country-themed television show, "The Marty Stuart Show." Stuart is now a devoted defender of traditional country music. In recent years he's recorded several concept albums and worked with many of the finest traditional country and bluegrass artists. Stuart' first stepped onto to Opry stage as Lester Flatt's 13-year-old mandolin player and was inducted as a member of the Grand Ole Opry 20 years later.
Marty Stuart is a 4-time Grammy Award winner. Two of his solo albums, This One's Gonna Hurt You and Tempted are certified gold. Stuart's most successful song, "The Whiskey Ain't Workin'" is a duet with Travis Tritt. "Tempted" became Stuart's first Top 5 hit, and "Hillbilly Rock" and 'Western Girls' broke Top 20 also. Stuart has also produced musical scores for film and produced albums for his wife, Connie Smith, and country legend Porter Wagoner.
Newsletter Signup
Signup to be notified when new dates are added:
Marty Stuart has
no current dates
scheduled at Grand Ole Opry.
Click here
for complete schedule. Sign up for newsletter to be notified when dates are added.