Mark Wills At Grand Ole Opry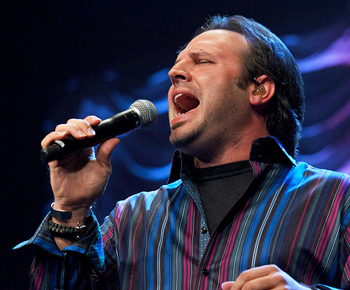 Country artist Mark Wills was born in August of 1973 in Cleveland, Tennessee. As a teenager, growing up then in Georgia, Wills began playing in garage bands, inspired by rock groups like Bon Jovi. As a young adult, he began taking an interest in country music and won a local talent contest in Marietta, Georgia. When he was seventeen, he began playing locally and later moved on to become a demo singer in Atlanta and then Nashville. He signed with Mercury Records Nashville eventually as a recording artist and released his debut album in 1996.
Wills has released more than twenty singles throughout the years, including two Number One hits. His first single, "Jacob's Ladder," peaked at Number Six on the Country charts. It was followed soon after by "Places I've Never Been," which reached Number Five. His next two singles, "I Do (Cherish You)" and "Don't Laugh at Me," both peaked at Number Two. In 1999, he released his first Number One hit, "Wish You Were Here." His second Number One came in 2002 with "19 Somethin'."
In 1998, Wills won the Top New Male Vocalist award from the Academy of Country Music.
In 2000, Wills played the role of Huckleberry Finn in the production of Tom Sawyer.
Newsletter Signup
Signup to be notified when new dates are added:
Upcoming Dates at Grand Ole Opry:
Bill Anderson
,
Eric Paslay
,
Jeannie Seely
,
Jesse McReynolds
,
Maddie & Tae
,
Mark Wills
,
Mike Snider
,
Moe Bandy
,
Riders In The Sky
,
Stephanie Quayle
,
Tegan Marie
,
The Whites
,
Williams & Ree
, and more to be added.