Mandy Barnett At Grand Ole Opry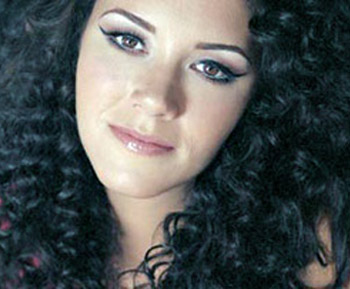 Born in Crossville, Tennessee in 1975, Mandy Barnett has gone on to recreate the sound of Patsy Cline, Jim Reeves, Webb Pierce and Brenda Lee in her own classic country style. Barnett began singing in church when she was five years old. Noticing a love for music in her daughter, Betty Barnett began booking her gigs at bowling alleys, VFW halls, political rallies and anywhere else she could get her into. When she couldn't sing at an actual venue, she would entertain in parking lots. Her father, Dan Barnett, was able to get her a professionally recorded gospel music album by age nine. After that, she joined a theatre cast at Dollywood during the summer, even getting the opportunity to share the stage with Dolly herself. After winning a talent contest at Dollywood, she headed to Nashville for her prize: the chance to create a demo tape. Barnett made her debut appearance on the Grand Ole Opry stage at age twelve, with her rendition of Patsy Cline's "Crazy."
During her trip to Nashville to record her demo, Mandy Barnett was discovered by Jimmy Bowen, who signed her to his current record. As Bowen moved from label to label, he made certain that Mandy would be right there with him. Therefore, it took her until after she graduated high school to release her first, self-titled CD. Before she signed with Asylum Records, she starred as Patsy Cline in the show Always…Patsy Cline at the Ryman Auditorium. Her CD Mandy Barnett was well-received by the public, veteran artists and major trade publications, like Playboy and Time.
Some of Barnett's most well-known songs include "Now That's All Right with Me," "Maybe," "A Simple I Love You" and "I've Got a Right to Cry." Her second album, I've Got a Right to Cry, was named the top country album of 1999 by Rolling Stone. The CD had similar reviews in publications like People, Newsweek and Interview. The album also landed her appearances on both the Late Show with David Letterman and The Tonight Show with Jay Leno.
Barnett has also had lyrics featured in movie soundtracks like A Walk on the Moon, Traveller, Space Cowboys, Election and Drop Dead Gorgeous. She took the stage as Patsy Cline in the musical Always…Patsy Cline once more in 2009 for the fifteenth anniversary performance at Ryman Auditorium. Now, she still plays shows nationally as well as internationally that allow her to sing the country classics. She frequently appears on the Grand Ole Opry stage.
Newsletter Signup
Signup to be notified when new dates are added:
Mandy Barnett has
no current dates
scheduled at Grand Ole Opry.
Click here
for complete schedule. Sign up for newsletter to be notified when dates are added.