Love and Theft At Grand Ole Opry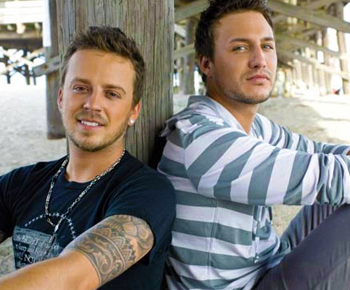 Love and Theft started in 2006 as a trio of three young men on lead vocals and guitar. As a trio, they signed to Lyric Street Records in 2009 and released the single "Runaway," which peaked at No. 10 on the Top Country Songs Chart. Right before the release of that single, the group made their debut on the Grand Ole Opry stage on March 28, 2009. Later that year, the trio released their debut album World Wide Open.
Over the next few years Love and Theft went through several changes. In 2010, their record label closed leaving them without a record label. In 2011, the trio downsized to the duo of Stephen Barker Liles and Eric Gunderson. The duo signed a deal with RCA Nashville in 2011 and released the single "Angel Eyes," which became their first No. 1 single on the Hot Country Songs Chart. In 2012, they released a self-titled album which debuted at No. 4 on the Top Country Albums Chart.
After going through all their changes, the duo is happy to be a part of the RCA family, a label that has supported some of their music heroes, most notably Elvis. The duo draws their musical inspiration from a shared spirituality as they were both raised by father's who were ministers.
Their popular songs include, "She's Amazing," "Amen," and "Dancing in Circles."
Newsletter Signup
Signup to be notified when new dates are added:
Love and Theft has
no current dates
scheduled at Grand Ole Opry.
Click here
for complete schedule. Sign up for newsletter to be notified when dates are added.