Little Big Town At Grand Ole Opry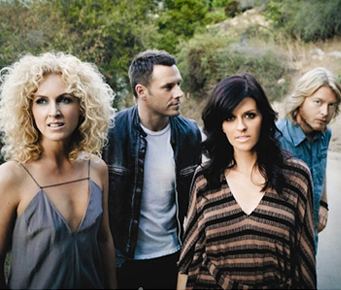 Little Big Town is a country music vocal group that was founded in 1998. The group has been comprised of the same four members since inception: Karen Fairchild, Kimberly Schlapman, Jimi Westbrook, and Phillip Sweet. The group relies on four-part vocal harmonies where all four members alternate as lead singer.
Fairchild and Schlapman started the group in 1987 at Samford University. Eventually the two moved to Nashville and added Westbrook in 1998. They performed as a trio for a while but finally added Sweet in 1999 and chose the name Little Big Town for the group. The group fumbled between record deals for a few years before releasing The Road to Here in 2005, which went certified platinum and produced two songs, "Boondocks" and "Bring It On Home," which comfortably resided on the Billboard Country Music Charts Top Ten. In 2007, they released A Place to Land before choosing a new label and reissuing the album with bonus tracks under Capitol Records in 2008.
For the next few years, the group worked with other artists and focused on their personal lives. All the members got married in 2006 and 2007 including two members, Fairchild and Westbrook, marrying each other. All the members came together again in 2010 to release their new album The Reason Why. The album featured "Little White Church," which made it to the Billboard Country Music Charts Top 10, their first song to make it since "Bring It On Home" in 2005.
In 2012, they released Tornado. They said, "It takes a perfect storm to make a great album." Tornado was just that. The lead single "Pontoon" became the first No. 1 hit on the Billboard's Hot Country Songs Chart. The song was also their first single to receive a platinum certification.
Little Big Town debuted on the Grand Ole Opry stage in 1999.
Newsletter Signup
Signup to be notified when new dates are added:
Little Big Town has
no current dates
scheduled at Grand Ole Opry.
Click here
for complete schedule. Sign up for newsletter to be notified when dates are added.