Kris Kristofferson At Grand Ole Opry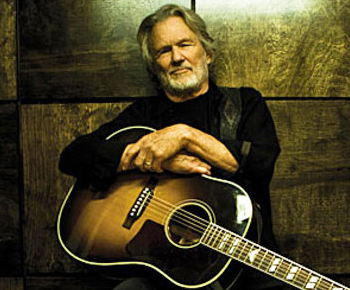 Born in Brownsville, Texas in 1936 to a family of military men, Kris Kristofferson moved around frequently as a child and was pushed towards a military career at an early age. However, Kristofferson decided to pursue a career as a writer instead and attended Pomona College in 1954. He then moved on to attend Oxford University, where he began writing songs. After graduating in 1960, he eventually was pushed into a career with the U.S. Army as a Captain. While he was stationed in West Germany, he formed a band. After his tour of duty ended, he decided to pursue songwriting in Nashville, inspired by the poet William Blake. There, he worked sweeping floors at Columbia Records, where he met Johnny Cash and had the opportunity to watch some of Bob Dylan's recording sessions.
After artists began recording some of Kristofferson's songs, he signed to Monument Records as a recording artist. His first album, Kristofferson, received little success until the next year when it was re-released under the name Me & Bobby McGee. Throughout his career as a recording artist, Kristofferson reached the Top 100 on the U.S. Country charts several times with singles like "Taker," "A Song I'd Like to Sing," "Loving Arms" and "Rain," all of which were co-recorded with Rita Coolidge. In 1973, he reached Number One with his single "Why Me."
After the release of "Why Me," Kristofferson decided to focus more on his acting. Over the years, he appeared in films like The Last Movie, Pat Garrett and Billy the Kid, Alice Doesn't Live Here Anymore, A Star Is Born, Songwriter, Paper Hearts, Girl's Night, 2001's Planet of the Apes and Deadfall.
In 1973, Kristofferson was nominated for the BAFTA Award for Best Newcomer for his work in Pat Garrett and Billy the Kid. He also was nominated for a 1984 Academy Award for Musical Score in Songwriter and won the Golden Globe Award for Best Actor in a Motion Picture Musical or Comedy in A Star is Borni n 1976.
Newsletter Signup
Signup to be notified when new dates are added:
Kris Kristofferson has
no current dates
scheduled at Grand Ole Opry.
Click here
for complete schedule. Sign up for newsletter to be notified when dates are added.