Keith Anderson At Grand Ole Opry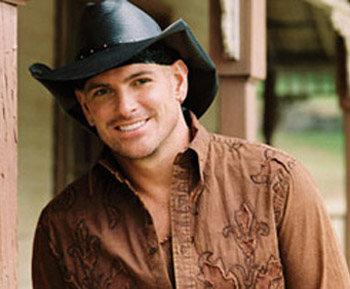 He may claim to be "XXL," but female fans would love to go "Pickin' Wildflowers" with country heartthrob Keith Anderson. Anderson was born on January 12, 1968 in Miami, Oklahoma. Music and sports shaped his life growing up; he played sports throughout middle and high school and sang in the church band. At Oklahoma State University, he studied engineering and played baseball. The Kansas City Royals were interested in taking him on after graduation, but a shoulder injury ended those dreams. Instead, he went on to take a job at an engineering firm in Dallas, but quit after a year and a half to pursue his love for music. He played at nightclubs, wrote songs, and learned to play the guitar from his brother Brian.
Dallas was the home of the Grapevine Opry, a show that had kick started other country performers' careers, and Anderson performed there for three years. His music career really took off after he and several others co-wrote the song "Beer Run (B Double E Double Are You In?)." Garth Brooks and George Jones picked up the song and recorded it. After that, Anderson opened for Montgomery Gentry in 2002 and earned a recording contract with Arista Nashville.
The release of Anderson's first album instantly made him a fan favorite. The album consisted of four chart singles: "Pickin' Wildflowers," "XXL," "Every Time I Hear Your Name" and "Podunk." After switching labels from Arista to Columbia Records in 2007, the single "I Still Miss You" became his third Top Ten hit.
Anderson has two albums out, Three Chord Country and American Rock & Roll (which peaked at Number Twelve on the US Country charts) and C'mon! (which came out as Number Three on the US Country charts and Number Twelve on the US charts). His first album reached Gold status, as did the single "Pickin' Wildflowers." Anderson has also written songs for Gretchen Wilson, as well as Big & Rich for their Number One single "Lost in This Moment."
Newsletter Signup
Signup to be notified when new dates are added:
Upcoming Dates at Grand Ole Opry: