Junior Brown At Grand Ole Opry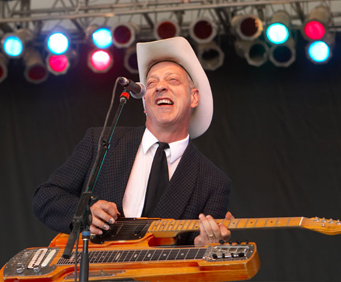 Born in Kirksville, Indiana in 1952, Junior Brown invented what is known as the "guit-steel," an instrument that helps to give him his unique country sound. The "guit-steel" is created by merging a six-string electric guitar with a lap steel guitar, creating a double-necked instrument. That and his nontraditional voice give him the progressive country sound and appearance he is now known for. Brown's professional career kicked off when he began singing and playing pedal steel and guitar for The Last Mile Ramblers, Dusty Drapes and the Dusters, and Asleep at the Wheel. At that time, he was fine-tuning his now outstanding guitar skills.
Brown's own, debut album was released in 1990, 12 Shades of Brown. After the album's re-release three years later under a different label, Guit with It, Semi Crazy and Long Walk Back followed over the next four years. Off of those albums, his most popular songs have included "Highway Patrol," "My Wife Thinks You're Dead," "Venom Wearin' Denim" and "I Hung It Up." In '97, he also appeared on Hank Thompson's album with the song "Gotta Sell Them Chickens."
In 1996, Brown was featured on the album Stars and Stripes Vol. 1, released by the Beach Boys. Brown performed his rendition of the song "409." In the same year, he appeared in George Jones' music video for "Honky Tonk Song" and won the CMA Country Music Video of the Year award for his own music video, "My Wife Thinks You're Dead."
Various films and television shows, like Me, Myself and Irene, Dukes of Hazzard and Spongebob SquarePants have all featured Brown's music. He also played the narrator of the 2005 Dukes remake. Along with country, Brown's sound dabbles in honky tonk, Western swing, blues, Tex-Mex, surf-rock and neotraditional country, making him a truly unique performer.
Newsletter Signup
Signup to be notified when new dates are added:
Junior Brown has
no current dates
scheduled at Grand Ole Opry.
Click here
for complete schedule. Sign up for newsletter to be notified when dates are added.