Jimmy C Newman At Grand Ole Opry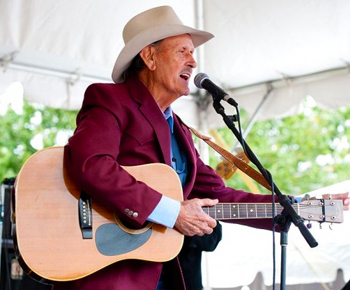 Long-time star of the Grand Ole Opry Jimmy C. Newman was born in 1927 near Big Mamou, Louisiana. While growing up, he was greatly inspired more by Gene Autry than the Cajun music that was so prominent in the area. However, he still has a number of Cajun songs in his repertoire and, when he was in his teens, he joined Chuck Guillory's Rhythm Boys. In the 1940s, he recorded with J.D. Miller's Future label, but did not begin his success until 1953 with the single "Cry, Cry Darling," which soared to Number Four on the Country charts. Over the next few years, he performed as a regular performer in the Louisiana Hayride, released four records that all reached the Top 10 status and was invited to join the Grand Ole Opry.
Throughout his career, Newman has reached the Top 10 twelve times with singles like "Daydreamin'," "God Was So Good," "A Fallen Star," "You're Makin' a Fool Out of Me," "A Lovely Work of Art" and "D.J. for a Day." As his name became more well-known in the country music scene, Newman began to integrate his Cajun background into his music. His hit "Alligator Man" became a Top 25 record and is still considered his theme song at the Grand Ole Opry.
In 2000, he was inducted into the North American Country Music Association's International Hall of Fame. Four years later, he was inducted into the Cajun Hall of Fame. He has also been honored at the Cajun Music Hall of Fame in Lafayette, Louisiana. In 2009, he was inducted into the Louisiana Music Hall of Fame, as well. 2006 brought him into the small group of entertainers who have fifty names of Grand Ole Opry membership to their name.

Newsletter Signup
Signup to be notified when new dates are added:
Jimmy C Newman has
no current dates
scheduled at Grand Ole Opry.
Click here
for complete schedule. Sign up for newsletter to be notified when dates are added.