Jean Shepard At Grand Ole Opry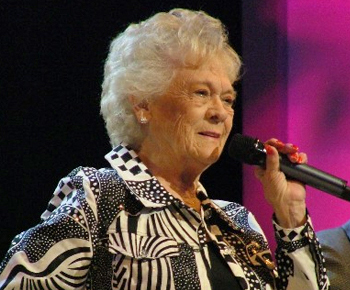 Honky tonk singer/songwriter, Jean Shepard, was a pioneer for women in country music. She began performing more than 60 years ago and in that time she released 71 hit singles that made it onto the Hot Country Songs Chart, 24 studio albums in a 24 year period, and she is the only woman to reach the 50 year milestone at the Grand Ole Opry.
Shepard began playing bass in junior high school and formed an all-female band called the Melody Ranch Girls. She was discovered a few years later and signed a contract with Capitol Records in 1952. She was the first woman to begin recording as a solo artist, which set a major precedent for all the women who followed her. In 1953, she released her first hit, "A Dear John Letter," a duet with Ferlin Husky, which became the first post-World War II album by a female country artist to sell more than one million copies. In 1955, she joined ABC-TV's, Ozark Jubilee, a variety show that helped popularize country music in America. That same year, she was inducted in the Grand Ole Opry at age 22.
A few of her best hits over the years include, "A Tear Dropped By, "Someone's Gotta Cry," "I'll Take the Dog," "If the Teardrops Were Silver," and "Many Happy Hangovers To Yo." In 2011, Shepard was inducted into the Country Music Hall of Fame. She celebrated her 50 year anniversary with the Grand Ole Opry in 2005.
Newsletter Signup
Signup to be notified when new dates are added:
Jean Shepard has
no current dates
scheduled at Grand Ole Opry.
Click here
for complete schedule. Sign up for newsletter to be notified when dates are added.