Jamey Johnson At Grand Ole Opry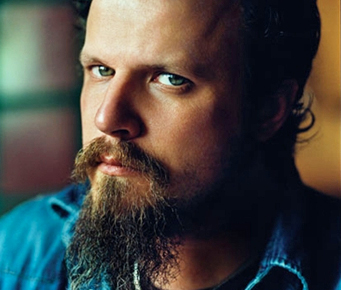 Country musician, Jamey Johnson, was enamored with country music from a young age. His grandfather gave him his first guitar at age 14 but it wasn't until exiting the Marines after eight years that he started playing music. In 2000, he moved to Nashville to pursue a country music career. That same year he self-released an album called The Call Me Country featuring songs about his time in the Marine Corps. This helped him make connections with Greg Perkins, a fiddle player, and Buddy Cannon, a producer and songwriter. The two contacts helped him find work as a duet partner for several artists and the latter landed him a songwriting contract.
In 2005, Johnson signed a contract with BNA Records and released his first single, "The Dollar," which peaked at No. 14 on the Hot Country Songs Chart. Then he continued to focus on songwriting. He wrote the No. 1 hit "Give It Away" for George Strait, the No. 1 hit "Ladies Love Country Boys" for Trace Adkins, and the Top 20 hit "Another Side of You" for Joe Nichols.
But he wasn't content with just writing saying, "Writing is just not enough for me. … I live to play. I'm not here to take a stab at it. I am going to DO it."
So in 2008, he released an online album, Lonesome Dove, which drew the attention of Mercury Nashville Records who he signed a contract with later that year. He released the single "In Color," which peaked at No. 9 on the Hot Country Songs Chart. Subsequently, Mercury re-released his online album, which peaked at No. 34 on the Top Country Albums Chart and was certified Platinum. His next album, The Guitar Song, reached No. 1 on the Top Country Albums Chart and was certified Gold.
In 2012, Johnson released a tribute album for Hank Cochran, a beloved songwriter who wrote 29 No. 1 hits in 30 years. Johnson met Cochran in 2008 just as he was diagnosed with pancreatic cancer. He developed a close relationship with the legendary songwriter who died in 2011. Since his death Johnson released the tribute album, Living for a Song: A Tribute to Hank Cochran and started a campaign to induct Cochran into the Country Music Hall of Fame posthumously. Johnson said, "Hank influenced me, not only as an artist and a songwriter, but also just as a person. If I had to dream up someone to influence songwriters, I couldn't do better than Hank."
Newsletter Signup
Signup to be notified when new dates are added:
Jamey Johnson has
no current dates
scheduled at Grand Ole Opry.
Click here
for complete schedule. Sign up for newsletter to be notified when dates are added.