Jack Greene At Grand Ole Opry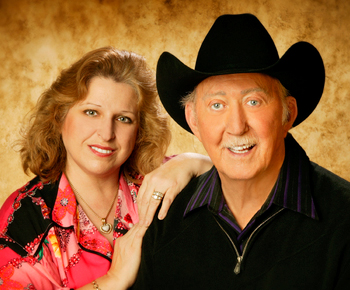 Grand Ole Opry member since 1967 Jack Greene was born in 1930 in Maryville, Tennessee. Nicknamed the "Jolly Green Giant," Greene moved to Atlanta in the early 50s to form his own band, The Peach Tree Boys. He was the lead vocalist, drummer and guitarist in that band. By the end of the decade, he moved to Nashville where he formed his second band, The Tennessee Mountain Boys. In 1961, they opened for Ernest Tubb, after which Tubb asked Greene to join his band. For the next few years, Greene played as drummer, guitarist and vocalist in The Texas Troubadors. In the mid-60s, Tubb encouraged Greene to pursue a solo career, which he did. In 1967, he was invited to join the Grand Ole Opry.
Greene's first Top 40 hit came in 1966 with "Ever Since My Baby Went Away." His next single, "There Goes My Everything," peaked at the top of the Country charts and stayed there for seven weeks. His first solo album stayed at Number One for a full year. The next year, he gained second Number One hit with "All the Time" and a Number Two hit with "What Locks the Door." Throughout his career, Greene has released nine Number One hits, including "You Are My Treasure," "Until My Dreams Come True" and "Statue of a Fool."
In 1967, Greene won three awards from the Country Music Association, Male Vocalist of the Year, Single of the Year and Album of the Year. The same year, he also joined the Grand Ole Opry.

Newsletter Signup
Signup to be notified when new dates are added:
Jack Greene has
no current dates
scheduled at Grand Ole Opry.
Click here
for complete schedule. Sign up for newsletter to be notified when dates are added.