Glen Campbell At Grand Ole Opry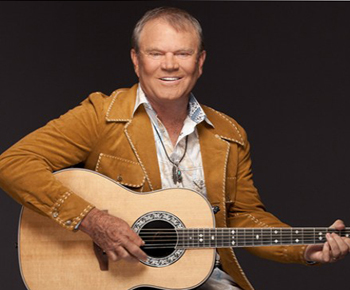 The country, rock, folk, pop and gospel sounds of Glen Campbell have been gracing the country music community since 1958. Born in 1936 in Billstown, Arkansas, Campbell began to play guitar without ever learning to read music. In 1954, he moved to Albuquerque, where he joined his uncle's band, Dick Bills and the Sandia Mountain Boys. While there, he appeared on his uncle's radio show, as well as on K Circle B Time, a local children's program. Four years later, he formed his own band, the Western Wranglers. In 1960, he moved to LA to become a session musician; soon after, he was in great demand. He played on recordings by Bobby Darin, Dean Martin, Nat King Cole, The Monkees, Merle Haggard, Elvis Presley, Frank Sinatra, Phil Spector and others. For one year in the mid-60s, he was a touring member of the Beach Boys. Around that time, he started his solo career.
His first big hit came in 1965 with "Universal Soldier," his version of Buffy Sainte-Marie's song that landed the Number Forty-Five spot on the Hot 100. A collaboration with producer Al DeLory a year later gave him his first Top 20 country hit, "Burning Bridges." "Gentle on My Mind," "By the Time I Get to Phoenix," "I Wanna Live," and "Wichita Lineman" followed, gaining even greater success. Other successful songs of Campbell's include "Wichita Lineman," "Galveson" and "Where's the Playground Susie?" The mid-70s brought him more success with "Rhinestone Cowboy" and "Southern Nights," two U.S. Number One hits, as well as "Sunflower" and "Country Boy."
Campbell was nominated for the Academy Award for Best Song and a Golden Globe for his performance and song "True Grit" in the movie in 1969. He also won four Grammy Awards in the late 60s, for songs like "Gentle on My Mind" and "By the Time I Get to Phoenix." Other awards he has received include Album of the Year in 1967 and 1968 from the Academy of Country Music, Top Male Vocalist in the same years, TV Personality of the Year in '68 and '71, and Single of the Year in 1975 for "Rhinestone Cowboy." From the American Music Awards, he has won three awards: Favorite Pop/Rock Single and Favorite Country Single in 1976, and Favorite Country Album in 1977.
The Country Music Association has named Campbell Entertainer of the Year and Male Vocalist of the Year, both in 1968. He has even gone international, winning the Entertainer of the Year in 1974 from the Country Music Association of Great Britain. In addition to his four Grammys in 1967, he has also been awarded with five other Grammys, from 1968 to 2012, including three Hall of Fame Awards and a Lifetime Achievement Award. In 2005, he was inducted into the Country Music Hall of Fame. In 2007, he was inducted into the Musicians' Hall of Fame as a member of The Wrecking Crew.
Other than his role in the 1969 True Gritas La Boeuf, Campbell has also appeared in other films, like Baby the Rain Must Fall, Norwood, Any Which Way You Can and Rock-A-Doodle.
Newsletter Signup
Signup to be notified when new dates are added:
Glen Campbell has
no current dates
scheduled at Grand Ole Opry.
Click here
for complete schedule. Sign up for newsletter to be notified when dates are added.