Gillian Welch & David Rawlings At Grand Ole Opry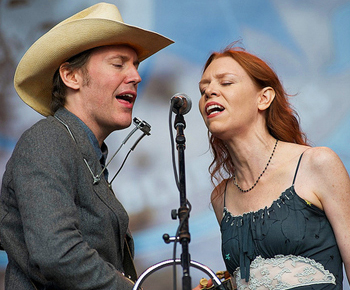 Bluegrass, Americana and country duo Gillian Welch and David Rawlings mix in elements of Appalachian music in their sound. The two met at Berklee, where they auditioned for the college's only country band. After finishing college, the two moved to Nashville in 1992. There, they began performing as a duo for the first time. The next year, they met their manager Denise Stiff, the current manager of Alison Krauss. Throughout their career together, the two have released five studio albums, featuring darker and rustic sounds and themes.
Their first album, Revival, was nominated for a Grammy for Best Contemporary Folk Album in 1997. The next year, they released Hell Among the Yearlings. The album featured songs that focused on subjects like a murder, a mining accident and an ode to morphine before death.
Welch sang two songs on the soundtrack to the 2000 film O Brother, Where Art Thou? Along with Alison Krauss, Welch and Rawlings sang on the gospel song "I'll Fly Away." Welch co-wrote and sang the song "Didn't Leave Nobody but the Baby" on the soundtrack as well, which was nominated for the 2002 Grammy Award for Best Country Collaboration with Vocals. The soundtrack album also won the 2002 Grammy for Album of the Year. Welch also made a cameo appearance in the film.
The themes of many of Welch and Rawlings' songs contain darker elements, usually about social outcasts who are struggling with elements like poverty, death, drugs, disconnection with family and an unresponsive God. The pace of their songs is most commonly a slower tempo, compared to a "slow heartbeat."
Newsletter Signup
Signup to be notified when new dates are added:
Gillian Welch & David Rawlings has
no current dates
scheduled at Grand Ole Opry.
Click here
for complete schedule. Sign up for newsletter to be notified when dates are added.