Gatlin Brothers At Grand Ole Opry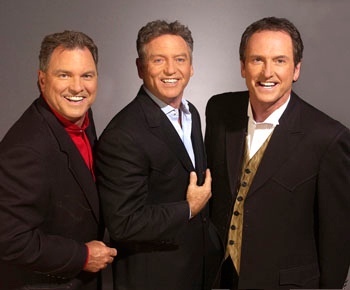 The Gatlins were inducted into the Grand Ole Opry in 1976 and have been a popular attraction there ever since. Before they were a group, they competed together in local talent competitions, winning their first in 1954, when Larry was only six, Steve four and Rudy two. When they became instant hits in the mid-70s, Larry was a solo act, but they wanted to work together. He wrote a song – in just fifteen minutes – that the brothers performed together, went to Number One and won them a Grammy – "Broken Lady." The Gatlin Brothers joined forces officially in 1979 when Larry Gatlin signed with Columbia Records and decided to have his brothers billed on his singles and albums. That year, they declared themselves as Larry Gatlin & the Gatlin Brothers. In October of that year, they released their first album as this group, Straight Ahead.
On the album Straight Ahead, they released the Number One hit, "All the Gold in California," which led to Larry Gatlin being awarded the Top Male Vocalist of the Year by the Academy of Country Music. In June of 1980, the album was certified Gold. Early in that same year, they peaked at Number Five with their hit "Take Me to Your Lovin' Place." "What Are We Doin' Lonesome" peaked at Number Four later that year, as well.
Throughout the next couple of years, they gained even more success with Top 10 and Top 20 hits like "In Like with Each Other," "She Used to Sing on Sunday" "Almost Called Her Baby by Mistake" and "Denver." In '83, they had their third and last Number One hit with "Houston (Means I'm One Day Closer to You)." They later had more hits like the Number Two "She Used to Be Somebody's BabYy" and the Number Four hits "Talkin' to the Moon" and "Love of a Lifetime."
In January of 1985, the Gatlin Brothers sang "All the Gold in California" at the nationally-televised 50th Inaugural Gala. In 2002, they joined forces again for an active touring schedule, after a ten-year hiatus.

Newsletter Signup
Signup to be notified when new dates are added:
Gatlin Brothers has
no current dates
scheduled at Grand Ole Opry.
Click here
for complete schedule. Sign up for newsletter to be notified when dates are added.