Eric Church At Grand Ole Opry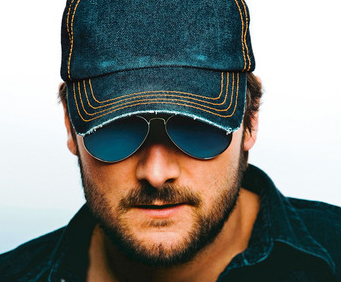 One of the "bad boys of country music," Eric Church was born and raised in Granite Falls, North Carolina in 1977. When he reached his teen years, he bought himself a guitar and started writing his own songs. By the time he reached his senior year of high school, he found a gig at a local bar, where he played covers of Jimmy Buffett songs as well as some of his original work. He started playing in dive bars, some so rough he was forced into a few altercations from the stage. His band "Mountain Boys" consisted of his college roommate, his brother and a fellow guitarist. With his father backing him up financially, Church moved to Nashville after his college graduation. Money wasn't the only thing his father gave him to encourage his career, however; he also provided him the opportunity to make contacts and the time to develop his songwriting ability.
Church has released three studio albums, all of which have been certified Gold or higher and have peaked at Top 10 chart positions. His first album, Sinners Like Me, released popular singles like "How 'Bout You," "Two Pink Lines," Guys Like Me," and the title track "Sinners Like Me." His second album, Carolina, released singles like "Love Your Love the Most," "Hell on the Heart" and "Smoke a Little Smoke," all of which peaked in the Top 20. Chief, his most recent studio album, released nothing but Top 20 singles, including two Number One hits. "Homeboy" and "Creepin'" both peaked at Number Thirteen, while "Drink in My Hand" and "Springsteen" grabbed the Number One spots.
In 2011 and 2012, Church has won two awards: The ACM's Top New Solo Vocalist and the CMA Awards' Album of the Year for Chief. He has also been nominated for awards like Top New Artist, Male Vocalist of the Year, Song of the Year and Favorite Male Country Artist.
Church has been described as country rock, outlaw country and southern rock, most likely formed from his influences, which include artists like Hank Williams Jr., Merle Haggard, Little Feat, The Band and Waylon Jennings. He has also stated that there are several heavy metal bands that have influenced his style of music, including Metallica and AC/DC.
Newsletter Signup
Signup to be notified when new dates are added:
Eric Church has
no current dates
scheduled at Grand Ole Opry.
Click here
for complete schedule. Sign up for newsletter to be notified when dates are added.