Emmylou Harris At Grand Ole Opry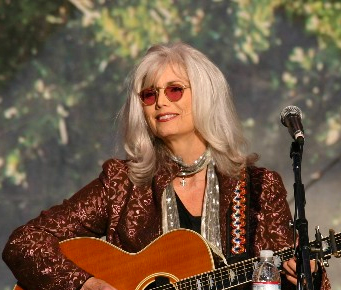 Successful at breaking the boundaries between country, folk, and rock 'n' roll, singer Emmylou Harris redefined the image and role of women in country music. Born in the south to a military family, Harris spent childhood like any normal kid in the 50s. Her upbringing wasn't particularly musical; it wasn't until she went to the University of North Carolina at Greensboro on a drama scholarship that she considered a career in music. She started to play the guitar in an attempt to master the songs of Pete Seeger and Bob Dylan. She left college early to move to New York City in hopes of music success. She began performing in Greenwich Village coffeehouses and released an indie album, Gliding Bird.
In 1971, The Flying Burrito Brothers, a country rock group, happened to be in the audience. They were so impressed with her that they recommended her to a friend, Gram Parsons, who was looking for a female vocalist for his first solo album. The two became quite enamored with each other and were very pleased with the music that they created. Before they could release their first studio album, Grievous Angel, Parsons accidentally overdosed on drugs and died. Their album was released posthumously but Harris was devastated by the loss. She found the strength to carry on and strove to play his particular style of folk mixed with electric country base.
In 1975, she signed with Reprise Records and released her first album, Pieces of the Sky. This album kicked off a series of hit songs and albums for years to come. She continued to release 25 more studio albums including her most recent, Hard Bargain, released in 2011.
Harris has released fourteen No. 1 hits and 27 Top 10 hits including "If I could Only Win Your Love," "Together Again," "Sweet Dreams," "Making Believe," "To Daddy," and "Heartbreak Hill." She has 10 gold albums and 12 Grammy awards.
She joined the Grand Ole Opry in 1992 and summed up the accomplishment saying, "Music is like food, sustenance. You certainly don't do it for the spotlight … You do it for the amazing exhilaration of singing, the feeling of the music going through you."
Newsletter Signup
Signup to be notified when new dates are added:
Emmylou Harris has
no current dates
scheduled at Grand Ole Opry.
Click here
for complete schedule. Sign up for newsletter to be notified when dates are added.